Wily's World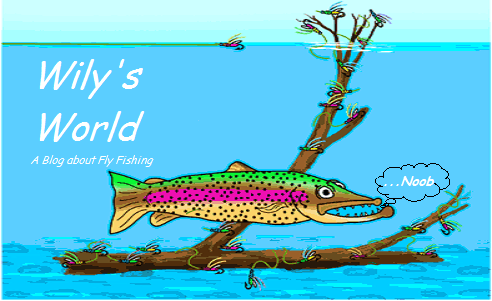 Welcome to
Wily's World: A Blog about Fly Fishing
. Here we will discuss the incredible sport of fly fishing in a blog setting. From time-to-time I'll relate some of the visceral experiences, hard-earned insights and spectacular foul-ups that have come to define my "career" as a fly angler. I hope you enjoy it.
Thanks for stopping by.
--TheWilyTrout
***
If you're new to the sport of fly fishing—or just looking to improve your catch rate—chances are you've spent a good deal of time searching for information on the internet, at the local fly shop, on various message boards, in magazines, during streamside conversations with passing anglers, or any of the other numerous avenues for increasing one's skill in the sport of fly fishing. These articles, blogs, conversations, etc. run the gamut of information directed toward true neophytes wanting to catch their first trout, to seasoned, professional, competitive anglers looking for ideas on
how to shave 3/10ths of a second off of their clinch knot tying time
. What was once the misunderstood pursuit of a dark, mysterious, cloistered subsect of the greater fishing community has now—through the miracle of
the internet
—been laid bare for all to see. Where closely-guarded tactics and techniques, secret and hushed, once defined the sport, a thriving, globe-spanning community of interconnected fly fishing enthusiasts now comes together each day to share tips, discuss ideas, lend advice to newbies, and to argue amongst themselves over
which fly rod is best
,
the merits of catch-and-release
, and how Joe's leader formula is the best and Bob's leader formula couldn't catch fish on a trout pond, even though they're practically identical except that Joe used a
nail knot
to connect the leader to the fly line while Bob had the audacity to use a
loop-to-loop
connection. Bob's a charlatan.
In my extensive perusal of information regarding all things fly fishing, I have found no shortage of advice and opinion. I have yet to speak with anyone at a fly shop who had no suggestion regarding which flies to use on local waters nor have I asked a question regarding the sport on one of the countless message boards dedicated to it without receiving some level of assistance. And while I can find out the difference between a double surgeon's knot and a triple surgeon's knot with
a few keystrokes and a Flash Player
, one area of information on the sport that I have found to be somewhat under-served is advice regarding
the basics
. Some brilliant folks can tell us how to best
stay warm while cold-weather fishing
, and some will even be happy to explain
every entomological detail
of the insects we imitate and how it all relates to fly fishing. But for all my searching, digging and countless hours of reading, watching videos online and discussing fly fishing with other folks, not one time—NOT ONCE—did anybody think to mention that the next time I go fishing, I should actually bring my fly rod. That's where this humble little blog comes in.
My very first fly fishing trip was in June of 2013. I had taken about a 2-decade break from fishing of any sort, but had always wanted to try fly fishing. Being focused on conservation and doing as little harm as possible while fishing, I had long been intrigued by fly fishing due to the small tackle used. Jerking a giant hook through the eyeball of a fish or having them routinely swallow hooks didn't seem as likely on the fly as it did with conventional bait fishing. In the fall of 2012, I started to feel the itch again and began to explore fly fishing more in earnest—online, books, magazines, etc. So, a few months later, when my co-worker asked if I wanted to join him to go fly fishing, I couldn't help but say yes. I was thrilled. I immediately went out and bought some basic gear: waders, boots, sling pack, rod/reel combo, flies--oh so many flies, and more. I left the store with a buggy full of gear and a head full of dreams.

The big day came and we headed out at 4 a.m. and grabbed some breakfast before arriving at Tammen Park on the
Toccoa River
in Blue Ridge at about 6:45 a.m. Out of the truck we bolted, geared ourselves in the thick dusk-grey of a soupy, pre-dawn summer morning, and started to line our fly rods. Well, my coworker started lining his rod; I left mine at home. In my hasty excitement to pack everything and hit the road, I committed the first of many
fishing bloopers
by managing to leave what is arguably the most important part of my fly fishing arsenal propped against the pool table in the garage, an hour and a half away from the river.
I suggested we hop back in the truck and drive the whole 4 minutes it'd take to get to the local Wal-Mart so that I could buy some semblance of a fly fishing rig and not ruin my first fly fishing trip. Instead, my coworker insisted we head out onto the river and swap out the rod so that he could "teach" me how to fly fish. So in we dropped and off we went and I stood silently by cheering my coworker on as he fished the first run. And the second run. And the third run. Finally, after an hour or so, I humbly asked if I could give it a shot. After about 2 dozen "one more casts", my coworker begrudgingly handed me the rod and of course I proceeded to get hung up on a log with my very first cast. So my coworker took the rod away after my one cast and began to "teach" me how to make sure that my rig didn't get hung up on the bottom. As he put it: "Trout don't feed underwater. All the bugs are too light to sink so they float in the top of the water column. That's where trout always feed and that's why I only fish dry flies." Sound advice… (On a related note, an entry on learning how to filter good advice from bad may one day make an appearance.)
In total, I probably got to make 20 casts over 5 or 6 hours—the rest of the time my coworker fished and filled my head with information that I'd soon learn was a bunch of crap he just made up to sound intelligent. And for the sheer euphoria of watching that dry fly for a strike on those 20 or so casts, having to stand there and watch my coworker fish for hour after hour while being lectured on the inaccessibility of all trout fishermen--"elitists" was the
mot du jour
--straight up sucked. Worse still was the fact that the entire debacle was my own fault, and that with a little more planning and a little less head-in-the-clouds exuberance and excitement to go chase trout, I could have spent the whole day fishing instead of shadowing my coworker and having a passing angler mistake me for an overly-supportive life-partner… (Yes, that actually happened.)
The point of sharing one of the (many) embarrassing moments I've experienced on the water since I started fly fishing is to hopefully help other anglers—new and seasoned alike—recognize the need for proper pre-trip preparation, planning and spur development of a system for assuring that some random act of God (too much rain/not enough rain, too sunny/not sunny enough, water too clear/ water too dirty, temps too warm/temps too cold, bear attack, etc.) is the reason you got skunked on the river, and not because you left some mundane-yet-integral part of your gear sitting back at the house… Like your fly rod.
So how do we avoid totally screwing up this basic, yet essential, part of the fly fishing experience? The answer is simple: We need a system. Now, if you're one of those
excessively anal
fortunate folks who never forgets anything, always triple-checks by nature, and is
pretty much prepared for anything at any time
, well, I can't help you. On the other hand, if you're like me, and items such as car keys, wallets, sunglasses, fly rods, etc. occasionally end up in a location where your person is not, then perhaps this writing can be of assistance.
***
Analysis of the Problem
In evaluating the hows and whys I always seemed to find myself lacking some piece of equipment, I realized that there were 3 main factors in my unpreparedness.
Individual items within containers improperly inventoried: I would often find myself missing a certain weight of tippet or split shot. Maybe I was out of floatant after a particularly busy weekend of dry fly fishing. Other times I'd be missing wet wipes for those unexpected streamside "events." Usually I would run out of an item and forget to replace it before the next trip. This caused no shortage of headaches.


Containers of items improperly accounted for during load up: Maybe I had to bring an extra bag for towels since I was wet-wading and forgot to grab my overnight bag of toiletries beside it. Perhaps I had my chest pouch out so that I could add flies to boxes while I was tying a batch and accidentally left my streamer box at the tying station. Or maybe I left my rod holder propped against the pool table in the garage… Unfortunately, I can personally attest that any of these slip-ups can create no shortage of frustration on a trip.


Unconventional travel arrangements or extended duration trips: Even the most

anal

dedicated of preparers can fall victim to the sheer, preparation-busting power of traveling in a buddy's vehicle or aboard a plane/train/bus to the fishin' hole, instead of in one's own vehicle. Essentials that generally stay in your personal vehicle that are not physically transferred to your buddy's vehicle have a nasty tendency to still be in your personal vehicle, even if you're 650 miles away. The mat I use for standing on and removing waders instead of having to stand in gravel comes to mind. The relative utility of such items decreases fairly significantly in such a situation…
While there are plenty of other, more specific situations that can create chaos on the water, this trio was by far the most damaging. So, like a never-give-up angler who empties a fly box trying to get that pod of risers to take a dry/dropper, I decided to dedicate myself fully to creating a system that would significantly reduce—if not altogether eliminate—my rampant penchant for finding myself and an integral piece of my equipment in two very different places at the very same time.
***
The Solution System
While searching for a strategy that would be able to address each of the issues discussed, I hoped for a single, all-encompassing system which would be a fitting solution for all of the problem areas. When pondering this system, I had a half-dozen or so ideas on how to proceed: hanging everything in a specific place in the garage and checking that all those spots were empty before leaving, locating all gear in a central spot in a spare bedroom (my girlfriend just
loved
this idea……) and so on. All workable solutions, for sure, but suboptimal in my mind. I instead opted to use what has been a simple-yet-effective solution: the checklist.
Basically my checklist covers 2 primary considerations:
What's in each individual bag/container?


Has that bag/container has been loaded into the vehicle?
By having an individual container checklist built and updated each trip (I use Excel—any other spreadsheet program or even pen/paper will work fine) I'm able to get a good idea of what I need to replace and when. Having the second part of the checklist will ensure that those properly-inventoried containers are safely loaded in the back of the truck, not chillin' in the closet back at the house.
I spend a lot of time thinking about fly fishing when I'm not actually doing it, so having this checklist in electronic form allows me to make notes, plan ahead and even place an order for new/replacement items from the comfort of my p.c., phone or tablet any time I want. Since at least one of these devices is within arm's reach most of the time--if not all of the time--I can instantly add a note to replace that dwindling spool of 5X tippet or patch that golf-ball-sized hole in my chest wader bootie without having to cover myself in post-it notes or try to keep it all in my head.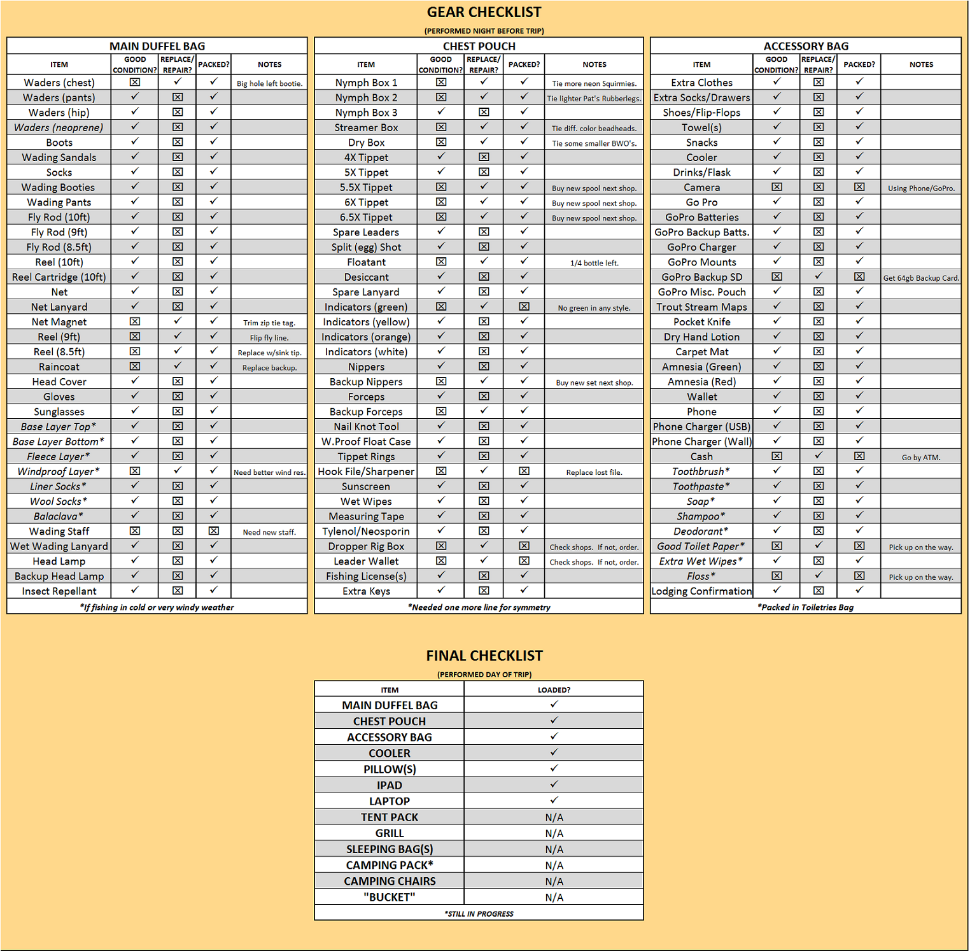 As you can see, I have 3 primary containers:
Main Duffel Bag, Chest Pouch
and
Accessory Bag/Bags.
The routine I've tried to establish is to inventory and prepare each of these during the days leading up to the trip—usually the night before. I prefer to print off the list and check off the entries manually when possible. That way I can make detailed notes on what needs to be replaced now and what will need to be replaced soon. Once those container inventories are complete, the checklist then becomes a loading list—a manifest of sorts—to ensure that all of the containers and items on it have been loaded into my truck or whosever vehicle we'll be traveling in. It may be a long way to go to ensure I have all the stuff I need, but I have experienced the alternative. And the alternative stinks. To me it's well worth the extra effort to ensure I'll never have to stand in the river and watch someone else fish because I didn't bring my fly rod or have to walk off of a barbless-hook-only river because my last barbless stonefly just got intimate with a hemlock that's an eighth of an inch beyond the reach of my outstretched fingertips and I didn't bring my chainsaw and I accidentally left my forceps (barb presser-downers) back in the hotel after a late-night fly tying session. (A session that included everything except barbless stoneflies, apparently.)

One glance at this checklist reveals something that is as surprising as it is indisputable: when we fly fish, we have the potential to carry a LOT of gear. Some of it is helpful (floatant/desiccant.) Some of it is integral (fly rod/wet wipes.) Some of it is seasonal or location-specific (cold weather gear isn't exactly necessary in the middle of July nor are wading sandals generally optimal in December.) Still other gear is only necessary when we stay overnight (toiletries) or when we plan on camping (tent/grill.) And some of the stuff--and many would argue
the most important stuff
--is only there to make the other fishermen we meet think we know what we're doing (cool sunglasses/fancy hat.)
Regardless of which sort of trip you're taking, it's good to have some sort of system in place—checklist or otherwise—to help you not only manage the large inventory of gear and items we need for fly fishing, but also to ensure that it's all with you when you need it. Hopefully this gives you some ideas on how to start building and customizing your own preparedness system.
Comments
0
Comments
Recent Blog Entries by TheWilyTrout