Been feeling a bit under the weather and haven't been out in several weeks (not counting the time met up with Vancheesy on the windest, foulest, nastiest water day two mondays ago, we both silently agreed not to talk of that day).
Finally felt well enough to hobble out to the water. Today was the most bug activity I've seen at JB in quite some time. There was at least 3 different varieties of hatches of midge, beserker mother's day caddis, antflies, even a mayfly here and there. I wasted the first hour an a half dry dropping trying to convince myself the dry bite from years of yore might once return. Wrong.
Switched up to some Perdigons and there where plenty of fish holding deep. Everything today was at least 4ft of water (probably still hunkered down from the releases). My best numbers day for the year somewhere around 25. Rainbows where almost all same size and had similar pink lateral coloration. I was surprised that only one had stubby fins.
Bugs where around all day long, the one time bug activity seized was for about 10 minutes when there was cloud coverage. Saw ALOT of topwater activity, more than I have in the past 2 years round these parts but I was all dry dropped out and still picking up fish on the 'gons and sexys.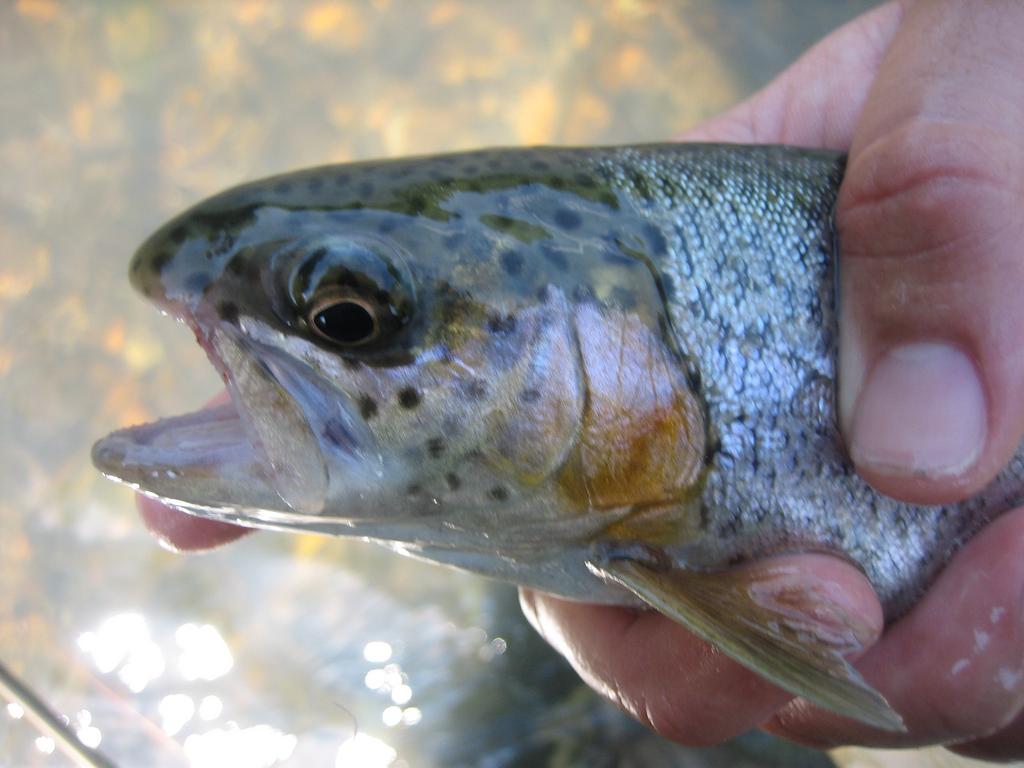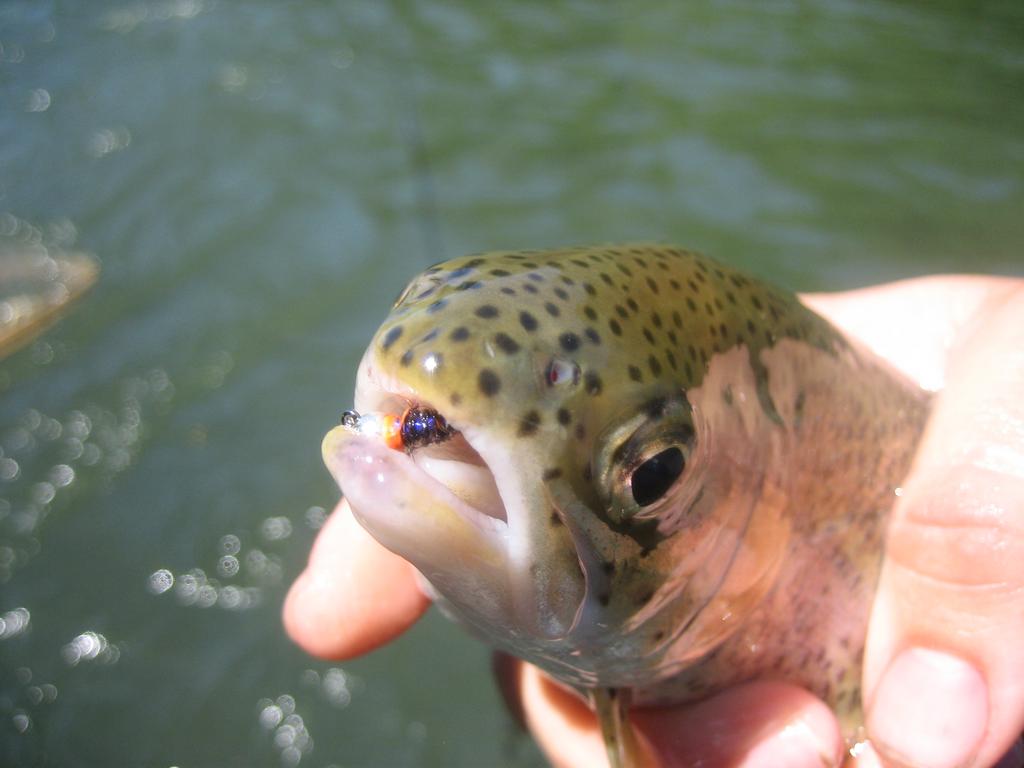 Spotted a few smaller browns hitting the midges in some shallow water. Tried to sneak up on 'em but no luck. Threw alot of midges today but for some reason, despite the heavy hatches, they don't seem to like them as much here as they do at the dam, except the smaller browns. I did manage to get a small brown in deeper water eventually.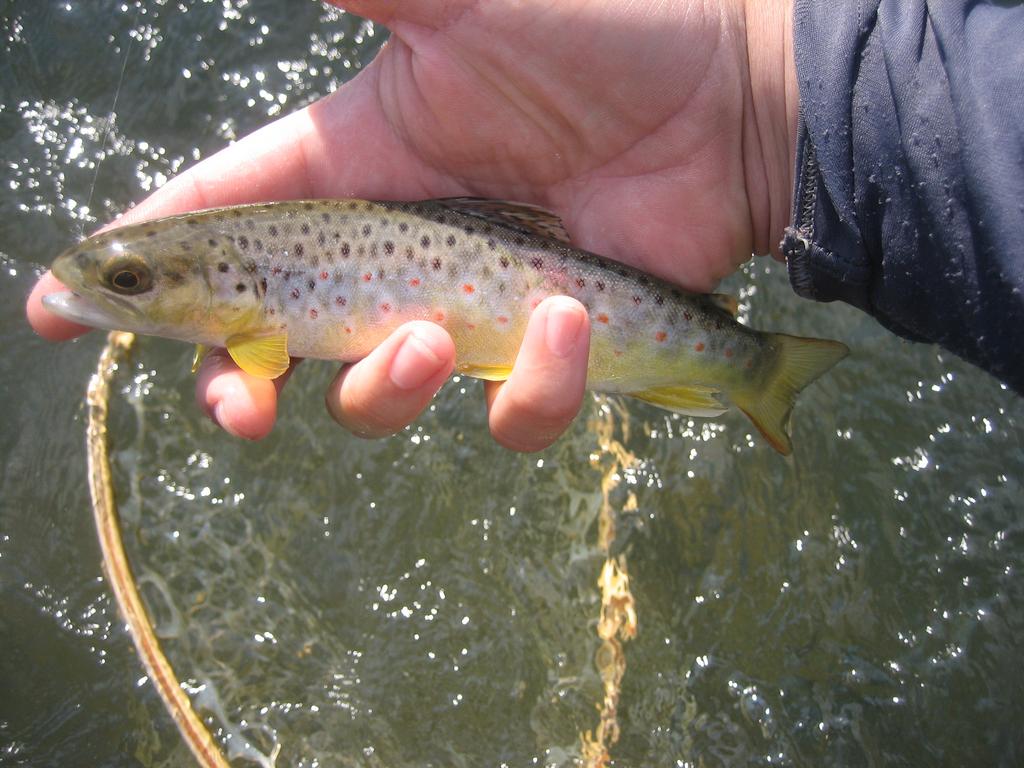 These where my two go-to 'gons...You can see these where coated with inferior loon resin.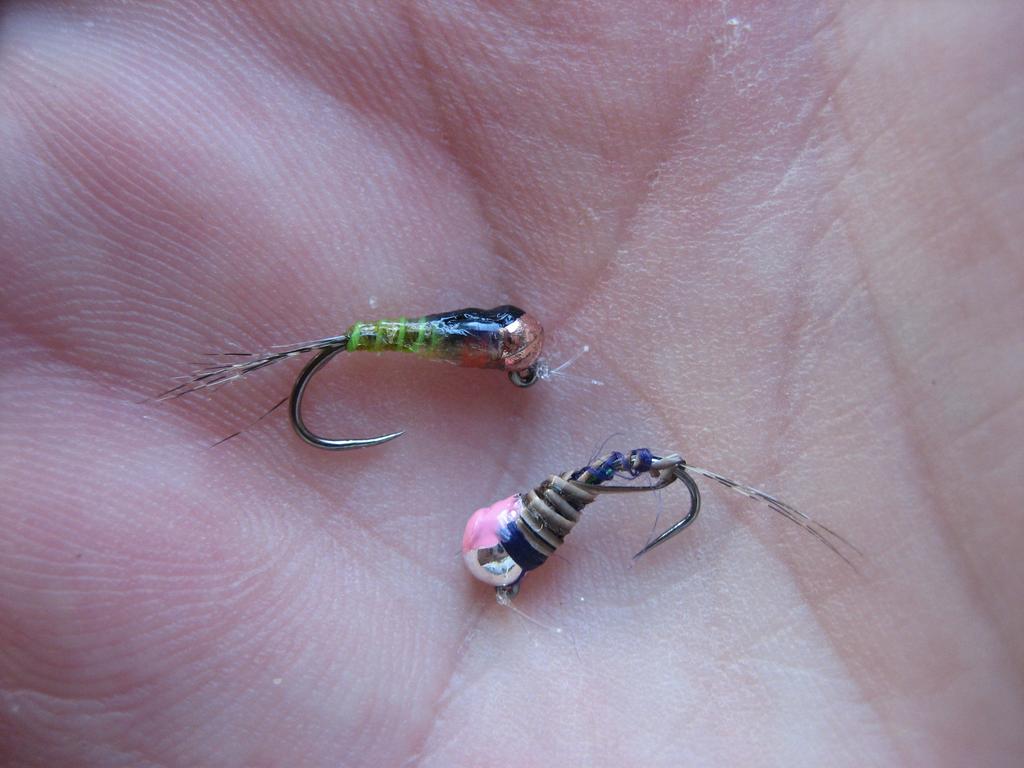 Around mid afternoon I felt a nice tug and knew it was one of Splatek's migratory browns. He went down deep but it was my quickest netted fish as I scooped him up from behind. He was gut hooked and probably didn't realized he was hooked so didn't put up much of a fight (Plus it was a long swim down from Settles during those round the clock releases so I'm sure he was fatigued). I wound up losing that fly as I didn't want to dig around in his belly with a hemostat so I cut the line and he took off.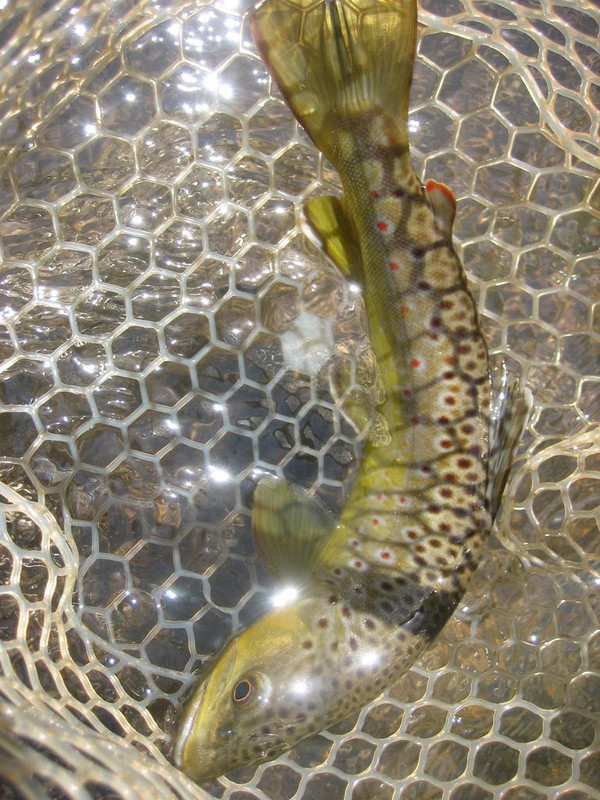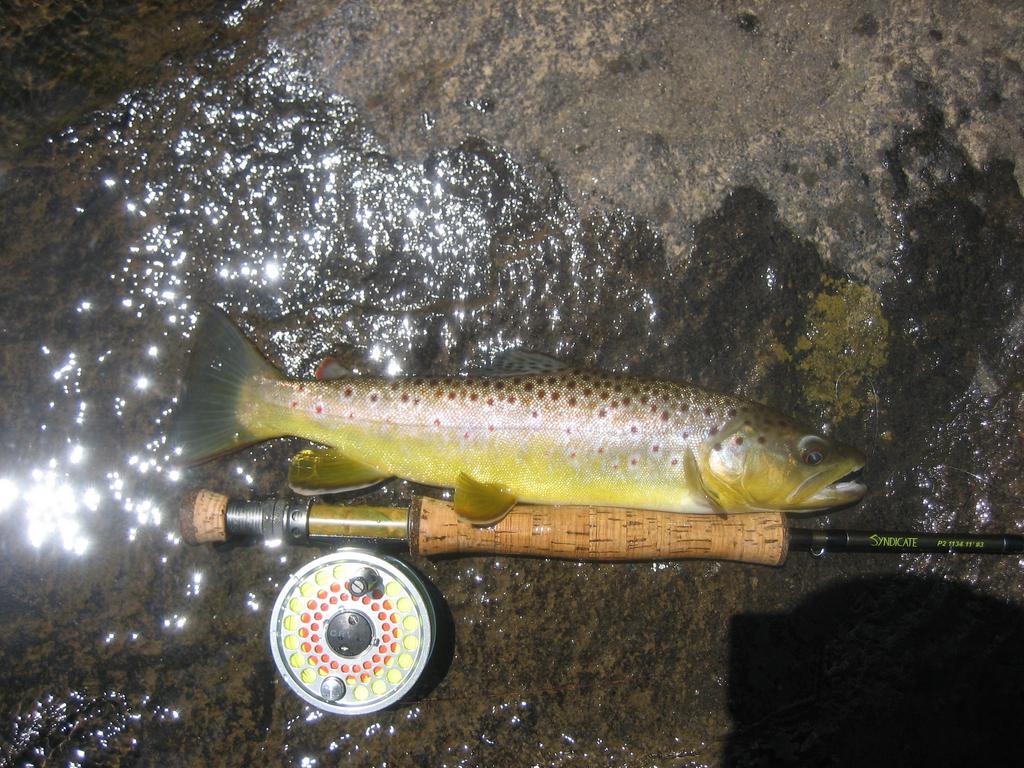 Wanted to stick around for a few more hours, but my foot started feeling tender so I got out on the bank and watched the caddis hop up and down up and down for a good 30 minutes. They where so frenzied that they agitated the fish enough to come up at em and almost near miss every attempt. Wonder if this is a defense mechanism for the Caddis while dropping eggs or them just trying to get the eggs off?
Was pleasantly surprised that I didn't miss that many fish today (Prowler told me about his super secret line retrieve that lets you land more fish
)
Tying up some Caddis now. Maybe just maybe, I'll get one to eat up top next time.
Best,
GU.