man I hope I remember the nam of that creek and the directions. Where is that napkin I wrote everything down on?
So I had a 2-3 hour time frame for some fishing Sunday afternoon. I decided to try a stream I have visited a couple times over the last 24 months without much success. The stream had come highly recommended so I thought I'll give it one more try. This stream is two streams removed from any stocking truck stream and I was over a mile upstream from its confluence with the "larger" creek. Also a creek that receives no stockings.
From the very first few minutes I was into rainbows. I caught several ranging in size from 2" to 9". I crawled over and around some giant blow downs and what do I see but a perfect fish place. A 2-3 foot cascade about five feet up from an undercut about 18" under a tree. The run ran just at the edge of the bank so the undercut area had no real flow under it. I placed the fly about three feet up from the tree and opposite of the run from me. Just as the fly was passing the tree an explosion on the surface and this fine fellow was on the hook.
It was an awesome time on the little 3 wt.
[IMG]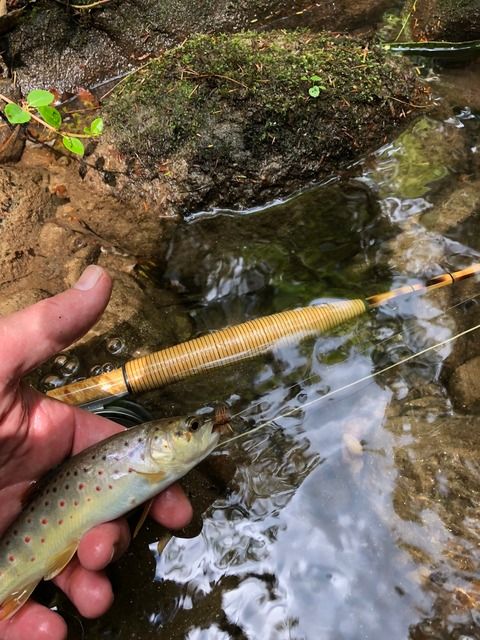 [/IMG]
I hope everyone had a great long weekend!