Hello fish lovers, I'm new here. I'm Seth, and I live in Atlanta. I crossed over to flies early this year after spinning for many years. First off, I would like to express my appreciation to all the members of this community who generously share their expertise to novices like me. The information on this message board greatly accelerated my learning curve as I began fly fishing. I figured I'm past due for some miniscule amount of contribution since I have already taken so much from this board, so my first report follows...
After suffering the cold shoulder from my home tailwaters on the Hooch for most of October, I decided this weekend should be dedicated to the mountains. I met my buddy at his cabin Saturday in time for an afternoon hike on the Benton-Mackaye. The leaves are really starting to come into their fall color.
[IMG]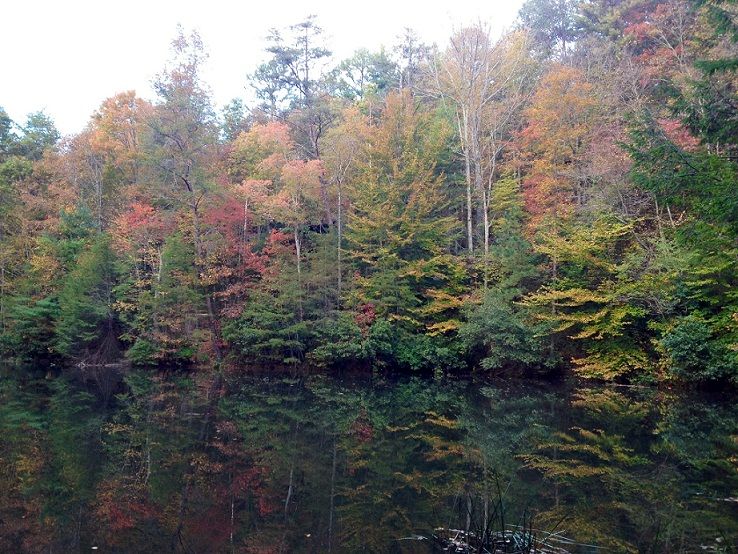 [/IMG]
Sunday morning, I proceeded to Blue Ridge Fly Fishing to trade big fish stories and to pick up some supplies for the day. I can't begin to explain how friendly and helpful the staff have been each time I have visited this shop. Plus you never know who you'll run into there - last weekend, I had the pleasure of meeting the illustrious Dink, who was like a walking encyclopedia of fishing knowledge.
As a result of being slightly lethargic after an evening filled with college football and beers, I decided to head to the Toccoa dam before driving to any other spots that would require more time and effort. In the first few minutes of scanning the water before putting on my waders, there were several rising fish, so I decided to suit up as quickly as possible while the fish were feeding on the surface. After precariously wading over the slippery dam rocks, I reached a good looking spot in the middle of the river, with a nice deep pool upstream and a small riffle followed by another smaller pool to my side and slightly downstream. The fish continued to rise on all sides, seemingly at a rate of two or three times per minute. The only flies I could identify were tiny white flies, midges perhaps, in the 20-24 size range. My hatch identification ability is still lacking, to say the least. I tried all my smallest dries, some stimis, BWOs, and even a few terrestrials to no avail.
Finally after losing my patience with dries, I decided to try the opposite tactic. I tied on a big black conehead woolly bugger with some flash and began casting to the side riffle and stripping the bugger back up after it made its way downstream through the smaller pool. I felt a bump on the first drift, then on the second drift after the first upstream strip, I had hooked my first fish of the day.
[IMG]
[/IMG]
Each of the following fifteen drifts ended with either a missed hookset or a fish on the line. And as an added bonus, every fish coming out of the hole was a brookie, which I am always pleased to find on the end of my line. Although I assume these were stocked fish, I think they had spent enough time in the river to develop excellent colors, and some of the larger ones were showing the very early stages of a hook jaw.
[IMG]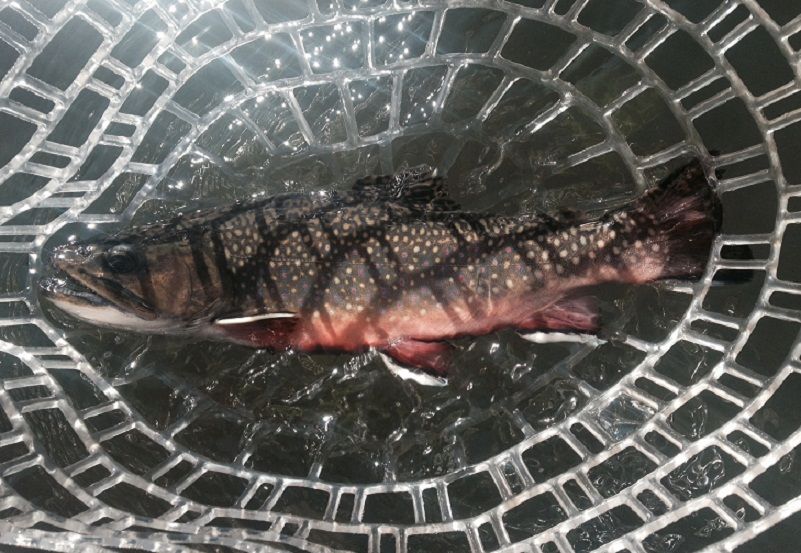 [/IMG]
Apparently I had found a hole full of brookies that were keyed in on the black bugger. I ended up with nine fish, all brookies, and finished the day with a nice thirteen incher that broke my previous species record by an inch. I left Blue Ridge thankful to these fish for ending my October slump and restoring my confidence in my skills on the fly.
[IMG]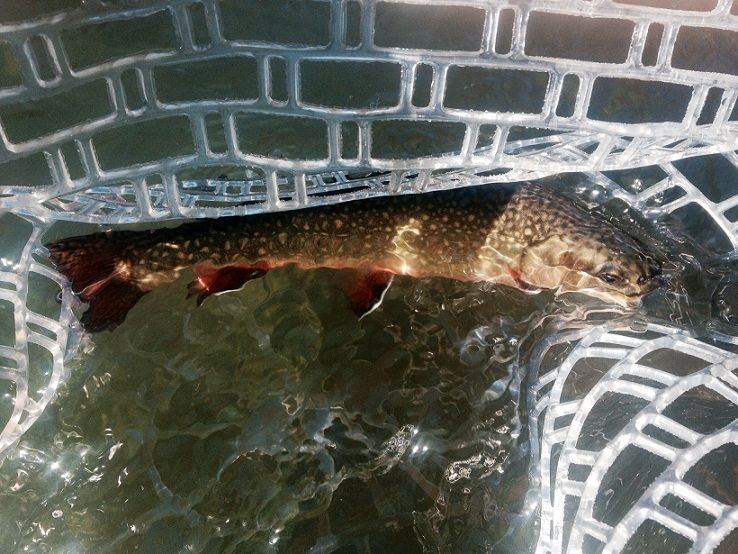 [/IMG]