My buddy called me Sunday night and we decided on a spontaneous trip down to the beach. I packed a change of clothes and some snacks.
We got in early enough for a quick nap in the parking lot then got to fishing at 5am. Good wind coming a lot of multi species action. The kings where fairly small but I was able to get a keeper.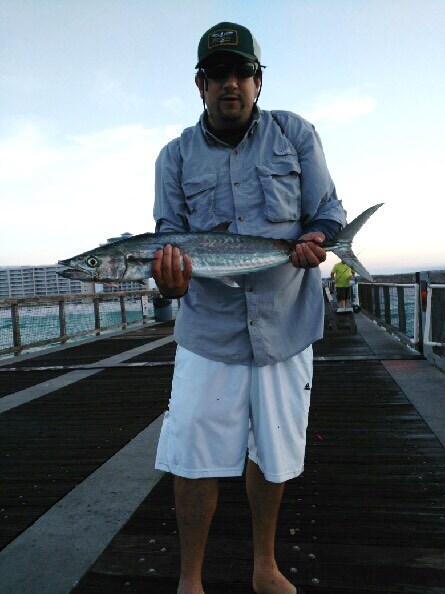 We caught some Spanish as well then the bite died down so got into some jacks and a few bonito. Later on a few bull reds where lurking around and some local instaposer kids showed up and where running around trying to get one when they started eating just running over peoples Rods and such. So we figured, "we ain't gone be outdone by some FL boys." I got wrapped on one but my buddy got a nice bull well over 50#, immediately the tourists flocked snapping pictures and the locals got all a tiff so we had to lower him back down before I could get a picture.
Day 2. I set the alarm for 430 them forgot to hit the ON button so we got there late and missed the kings. One guy caught 5 outta which one was only legal. No wind, A lot of schools but none got close enough to get a shot. A few poons came through with no takers and some Mahi came through. Of course we missed them trying to rerig and got somewhat outcrowded.
Bigger spanish where about. I must've missed 6-7 with break offs and inexperience. They would get close and turn last minute refusal. I couldn't figure out why the last minute refusal I asked one of the local guys he said "Clear water, no wind, they can see you line and don't follow through."
Took a little break on the beach working on my bikini lines and doing aquatics in the water, checking out the scene. I saw the wind pick back up thought I'd get a few more cast in before we left. Finally was able get into a nice Spanish.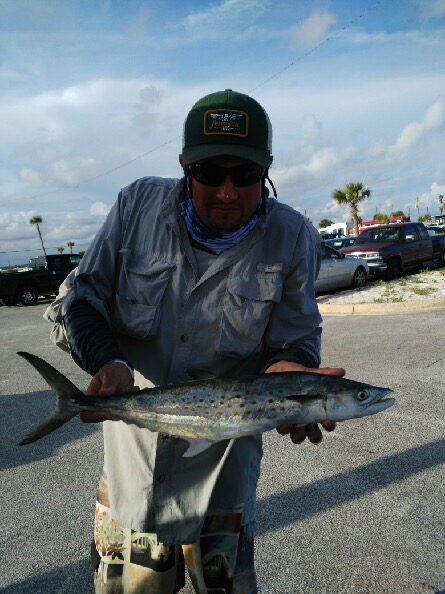 Can't complain. Great food and met some nice folks. Got some good intel and learned some new techniques.
Bring sunscreen