I could feel the warmth of the morning sun on my back. The heat of the day was still far off, but the air already had the consistency of a sponge, and a bead of sweat trickled down the back of my neck. To say that the wind was still would be to grossly understate the case, far better to say that it was dead. I tried to ignore the swarms of noseeums taking ruthless advantage of the absence of the breeze as I stared out across acres of yellow green grass and pondered the vital issue. How long until the water arrived?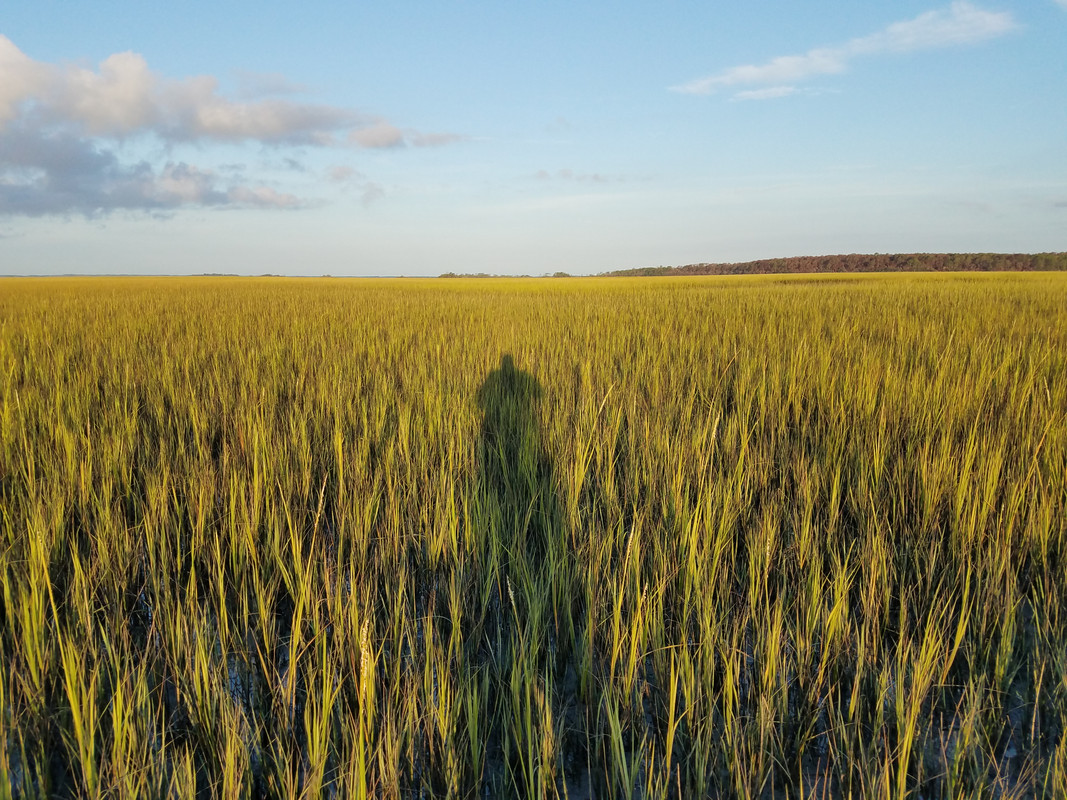 Hooking a redfish requires a convergence in four dimensions. It isn't enough to present a fly at the right point in three-dimensional space, it is necessary that the fly be presented at that point
at the appropriate moment in time
. Time is simply more of the essence in saltwater fly fishing, the passing of the tides like the ticking of a clock.
A clock, though, is a simple machine, measuring out each second exactly as the last. The tides are a intricate dance between forces earthly and cosmic, between wind and wave, the gravity of the sun and moon, and the rotation of the planet. The rains are blessed down in Africa, a storm churning a thousand miles away pushes the water in five minutes early and you never even see the fish you might have caught. So, you come a little too early, and stand there with the bugs and the grass and your questions.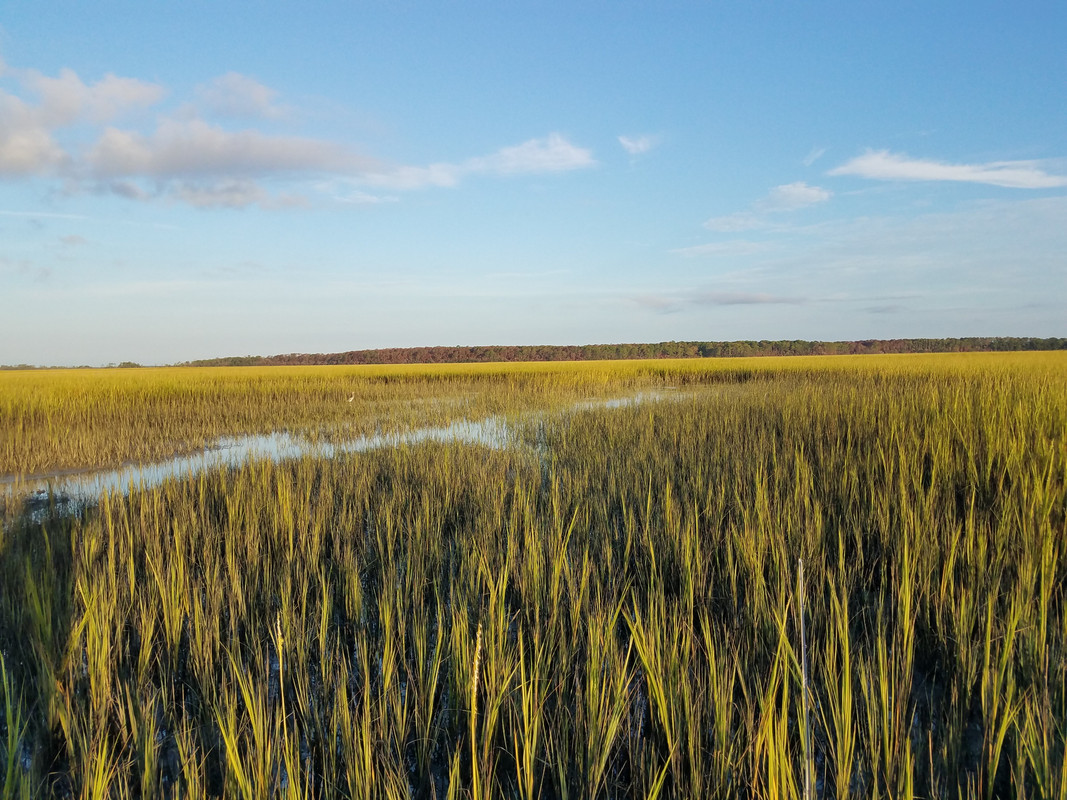 At first, the water seeped in, percolating up into nearly invisible depressions in the flat, filling the hidden pools channels that feed the entire flat. Soon it began to spill out of holes and creep onto the rest of the flat, initially as a trickle, but within a matter of minutes, it overtopped the beat up old Merrells I was wearing and inched up my shins. The first tiny breath of wind I'd felt all morning, coming from somewhere unseen, off the beach, tugged gently at my beard. Something at the edge of my vision drew my attention. I'll never be sure what it was, it was as much premonition or instinct as sight. Game on.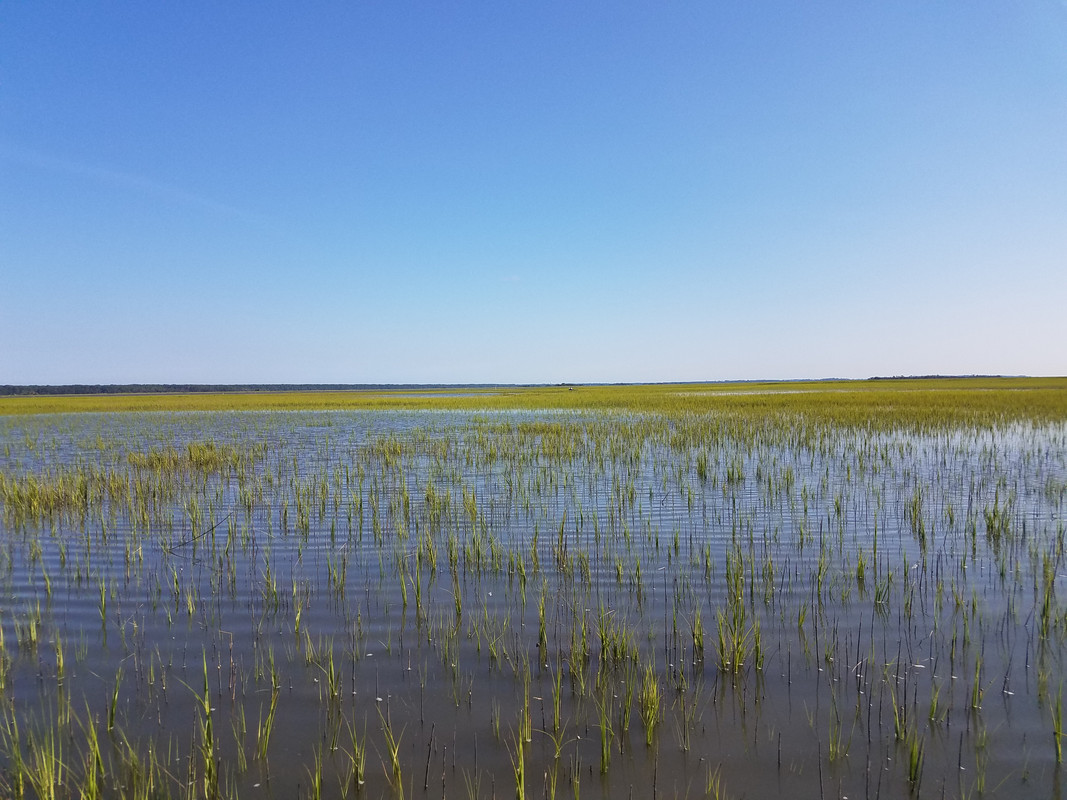 We call it "tailing" and say we're, "fishing for tailers" as a shorthand for this whole approach to taking redfish on a fly, but that lazy wave of a spottail bass standing vertically and rooting out fiddlers is only one of several ways these fish might reveal themselves to to the watchful angle. Sometimes, they look like snakes slithering through the grass, backs exposed. Occasionally, our ears find them when they suddenly ambush something in an explosion of water. Most often all they show is a "push" of water or perhaps just a
corner
of a tail.
However they make their appearances, redfish are all masters of disappearing once more. Once spotted, the clock starts ticking. If you can't get a fly in front before it drops eight inches or a foot below the surface, the refractive index of water and the evolutionary history and structure of the human visual cortex are likely to conspire to allow the copper colored fish to vanish completely into the green grass.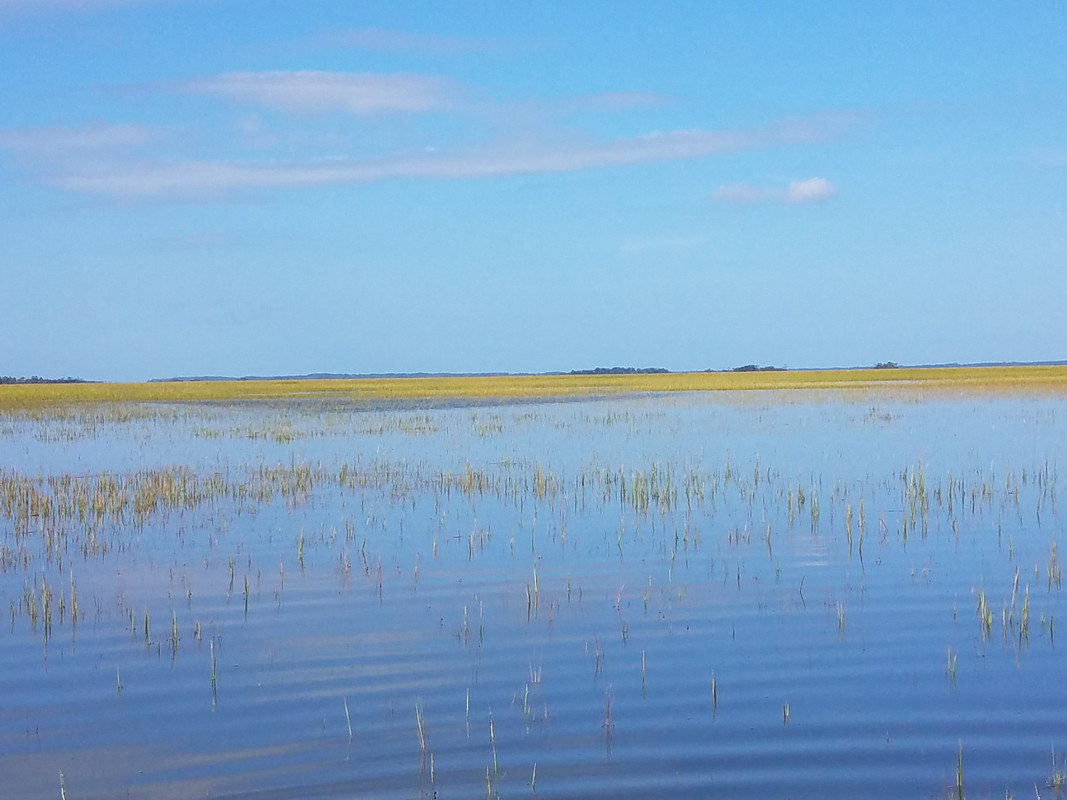 The first fish I spotted played cagey and hard to get; it meandered almost aimlessly through the grass and on several occasions, disappeared from view entirely for long, anxious moments. The unpredictable course often took it into grass too thick to land a fly in. My first shot landed a bit too close for comfort, and the fish spooked off a short distance before resuming a more leisurely course. Again, I painstakingly worked in for a cast. If finally managed to hide myself a little, crouching down in a clump of slightly taller grass and flipping out a short cast that had as much leader as line with it. This time the fly landed far enough away to avoid triggering a panic reaction, and instead of spooking, the fish glided over and flared its gills. On the board.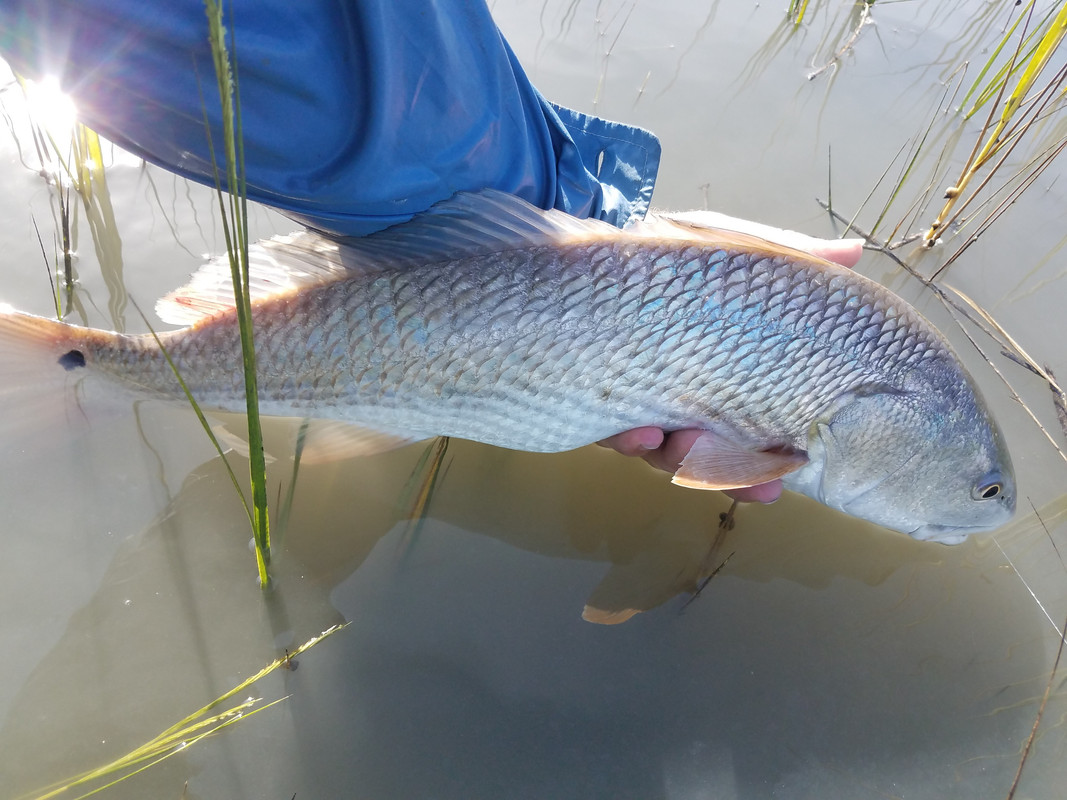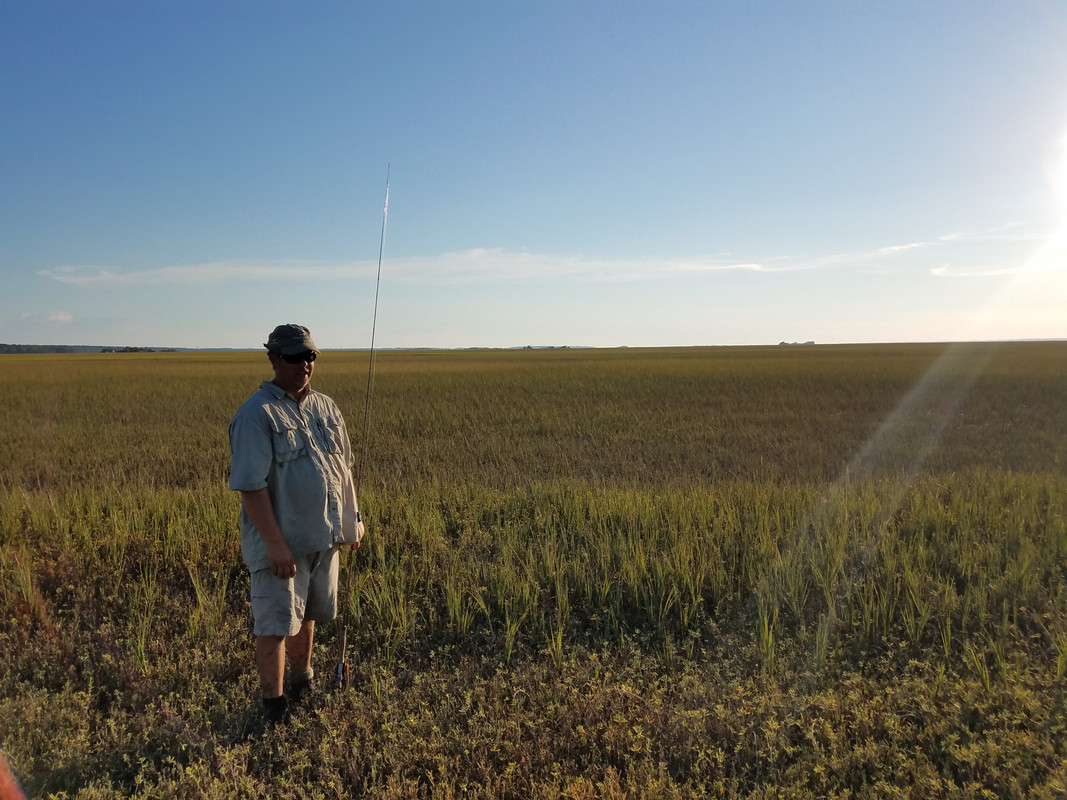 Full moons and new moons are when the magic happens, when the big tides flood the spartina grass deep enough to allow the drum access. Ever since the island real estate company put out the 2018 tide charts around last Thanksgiving, my cousin Drew and I have had the full moon of September and the new moon of October circled. Each offered more than a week of tailing rides to choose from, and we made a pact to get out on the flats and get after them.
I live in the mountains, accustomed to being hemmed in and loomed over by rocks and hills and trees. Vast open spaces seem fantastic to me. Grass flats make me feel small in a way entirely different from the way that towering gorge walls do. Truly level ground is as deceptive as clear water. A copse of trees three miles away can seem only a short stroll distant. It is impressive, but still a touch disconcerting for hill folk like me.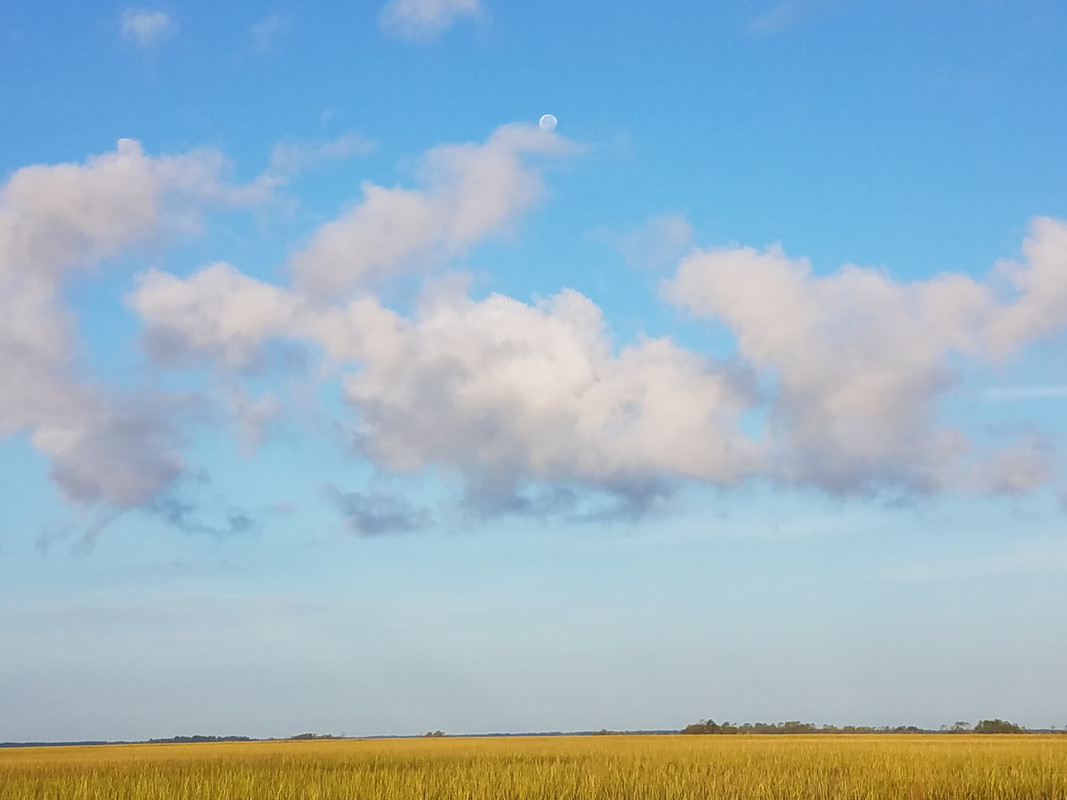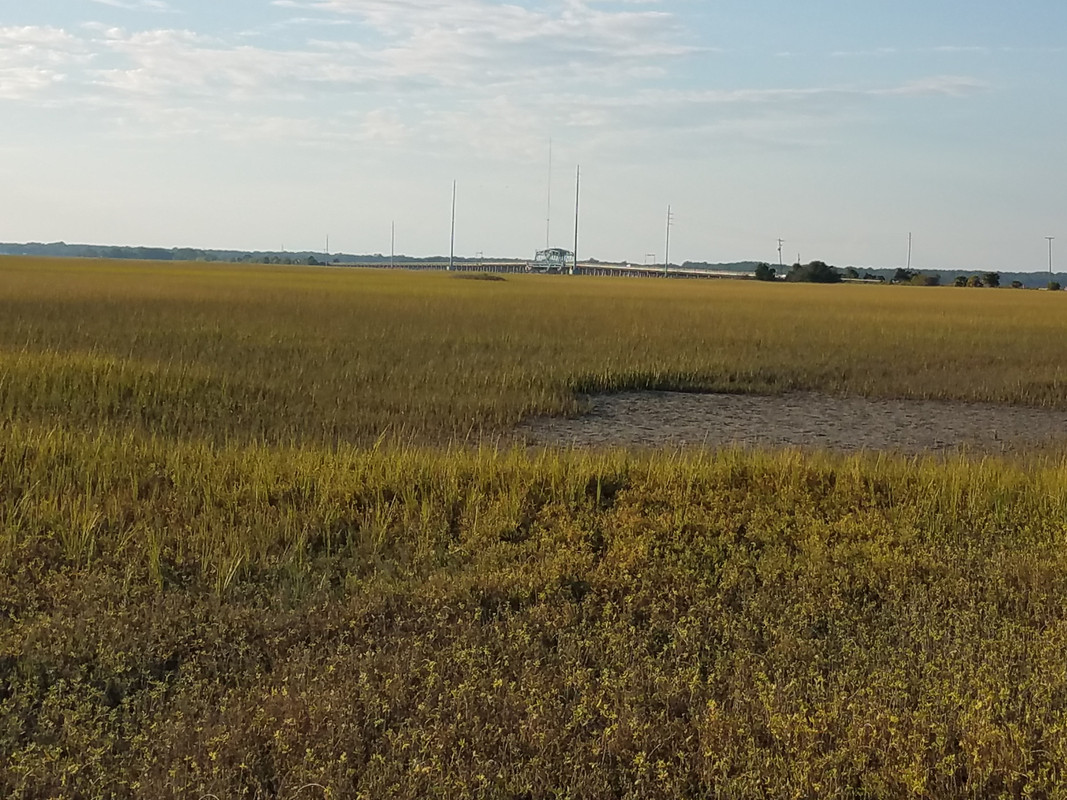 The best part about a grass flat is that it is a single use environment, as far as Mr. Spottail is concerned. They don't come crawling up there to get away from the dolphins. They're not there to breed or rest. They're not just passing through on the way to somewhere else. A redfish on a grass flat is there to exercise its rights as a consumer; it's there to eat. This simplifies your problems as an angler. The fish are primed to be convinced.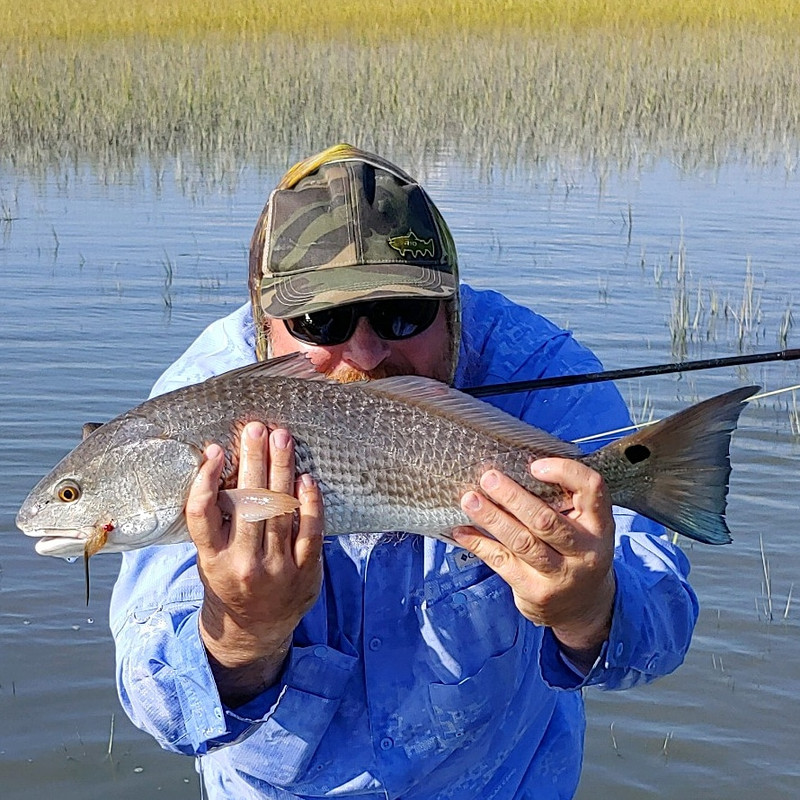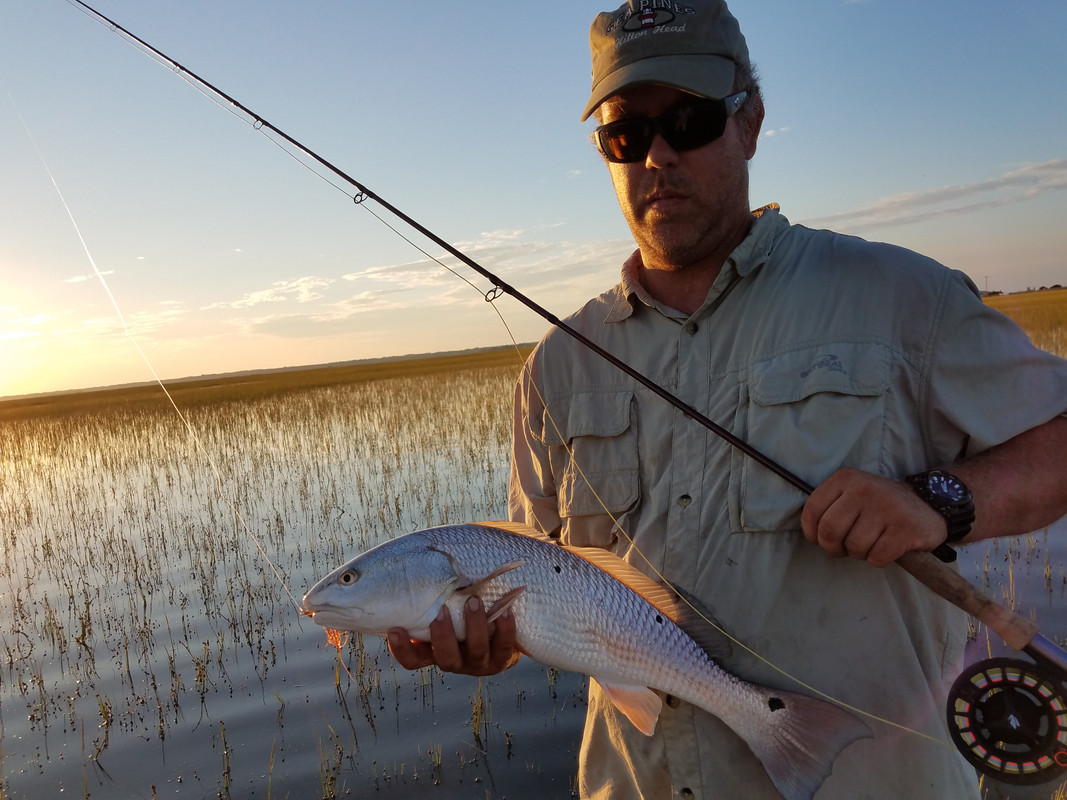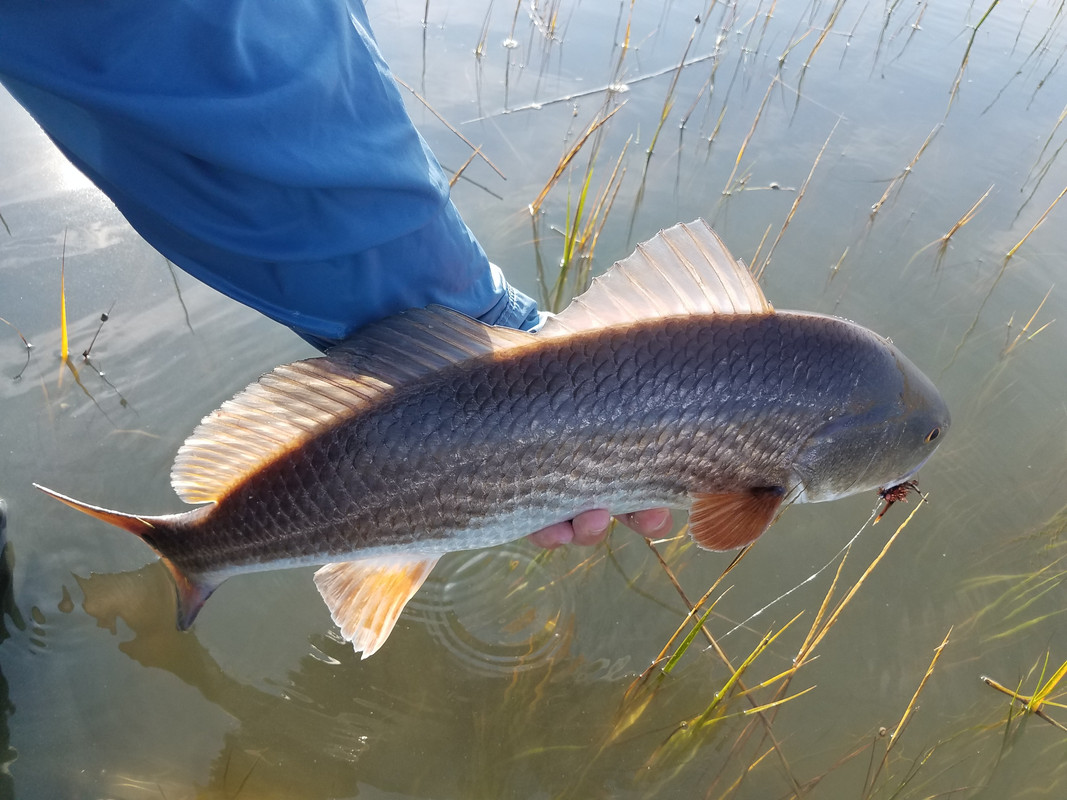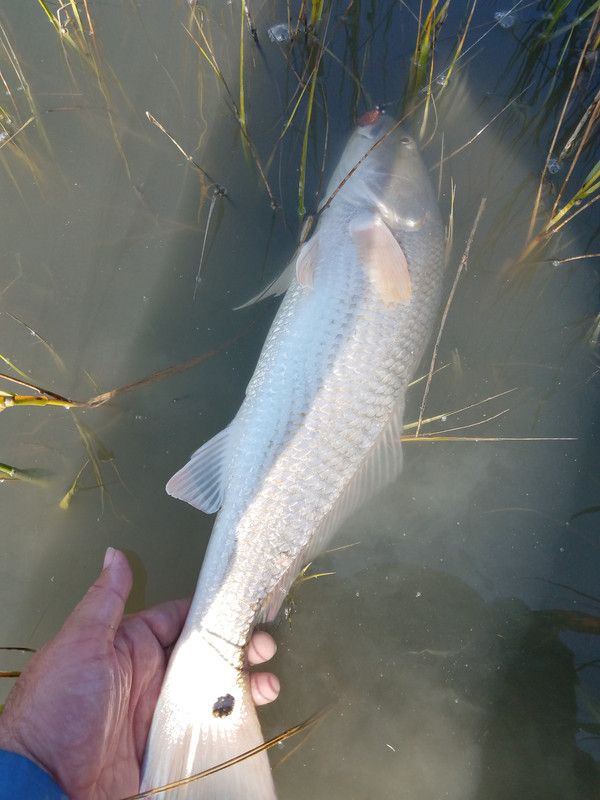 I stood on the bow of the idling bay boat, staring out at open water, looking for a sign. 150 yards away, small columns of water began to burst from the surface, as if some invisible child was hurling stones into the ocean. I staggered back down into the cockpit as the boat slammed into gear and that 250 roared to life. That morning, Drew told me he had a couple of plumbing jobs he couldn't put off any longer, so I'd taken the opportunity to catch up with a friend with a big boat. We'd found the large predators scarce on the ground that morning, and made the call around noon to switch it up and go after a grab bag of open water smalls.

The motor cut and I hopped back up on the bow. Unlike the last three schools, this one had obligingly stayed up while we closed the distance. As we coasted up on our remaining momentum, I could see dark shapes swirling through a frantic pile of bait. I dropped a popper in among the boils and came tight almost immediately, the reel singing as the line peeled off.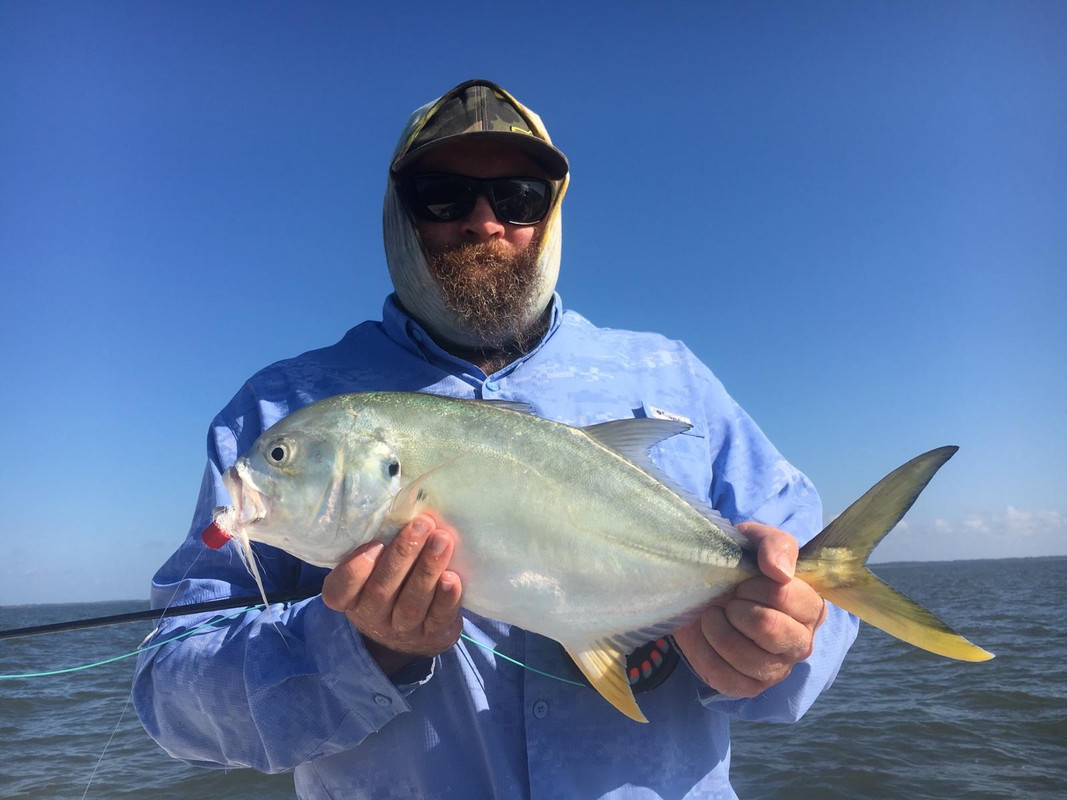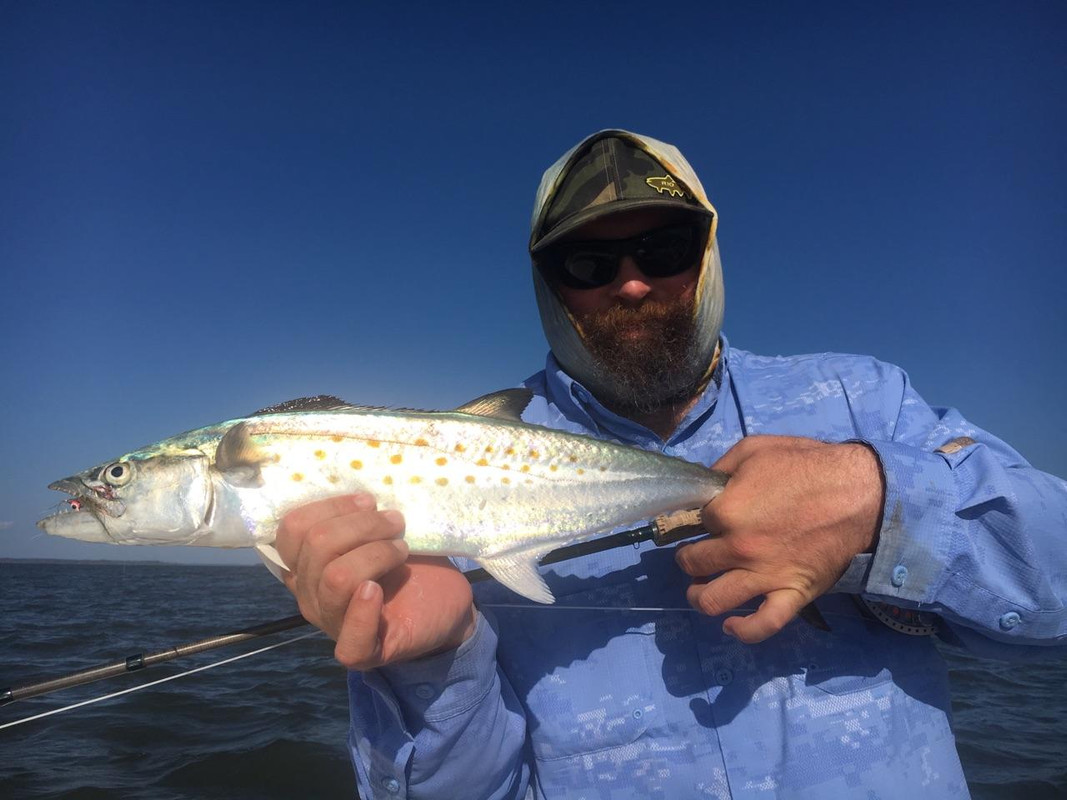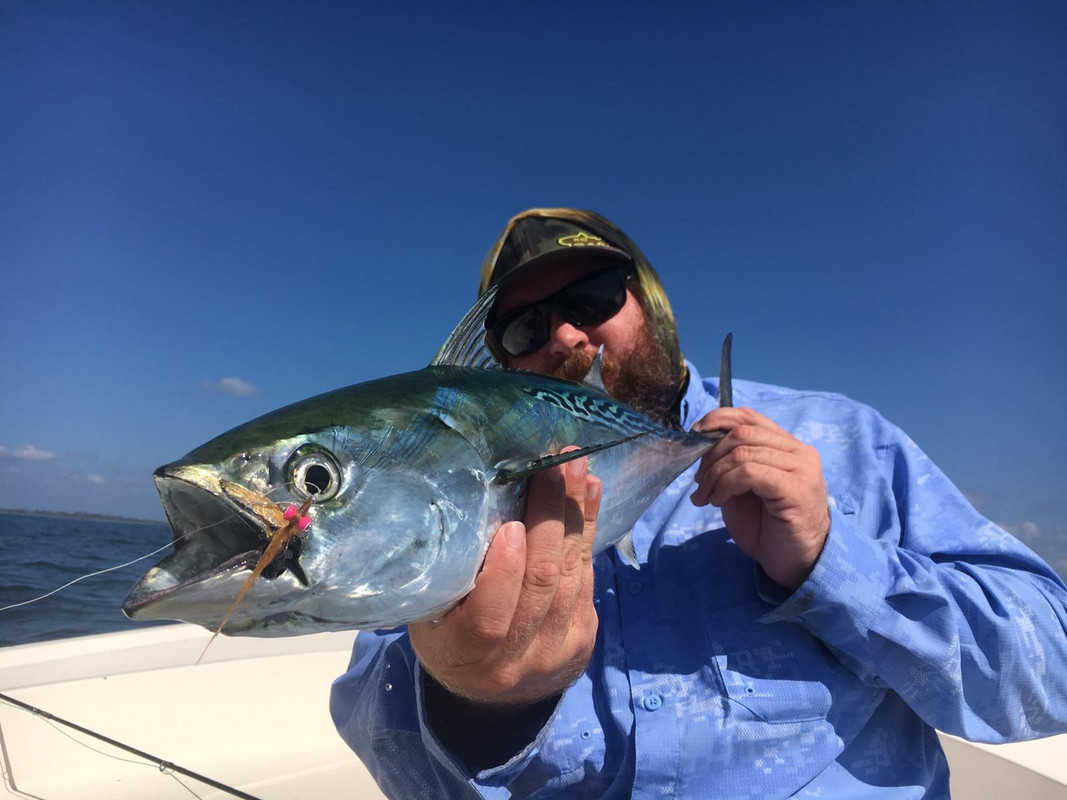 Finding a little elevation can be an enormous edge in a sight-fishing scenario. It can give you a fighting chance when a fish submerges completely and tries to melt into the grass. Finding that higher perspective is tricky on a grass flat, since they are, by definition,
flat
. A casting or polling platform on a skiff will do the trick, of course, but the wading angler must find another vantage point.
Docks can provide the solution to the problem of obtaining an overhead view, presuming one can obtain access to them. Unfortunately, something about island life seems to breed neighborly contention, and getting permission to access to the docks around my cousin's house has required literally years of negotiations with his rather fractious neighbors. It's been worth it, though. In high wind or poor lighting conditions, the docks can be a real day saver.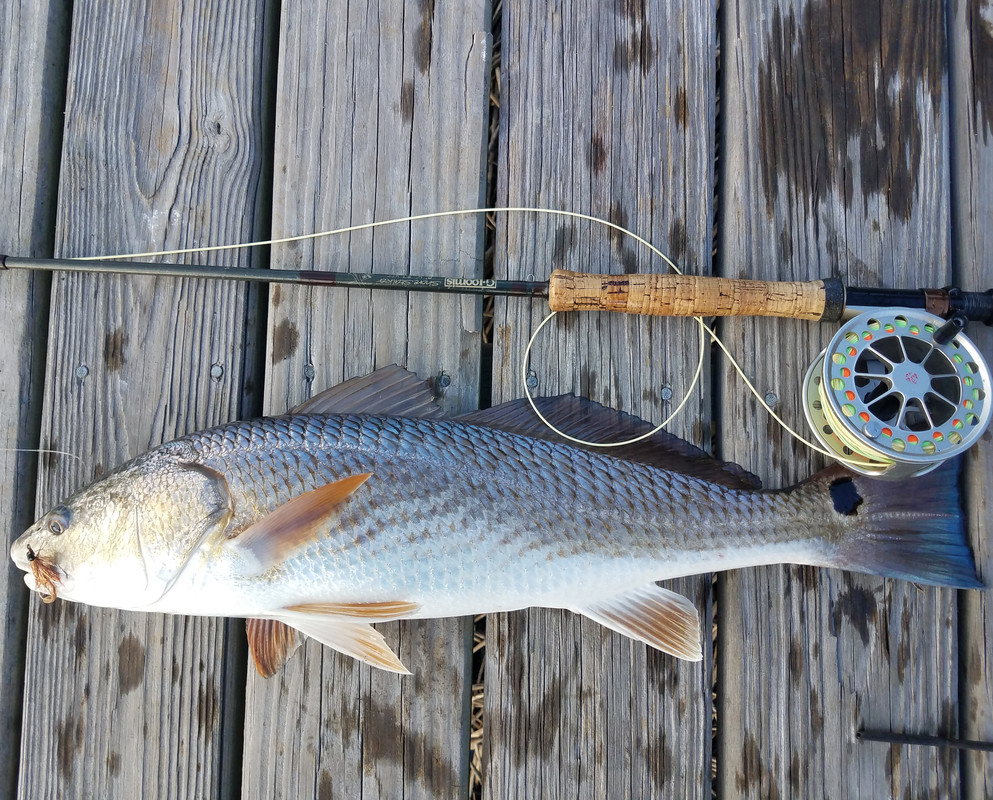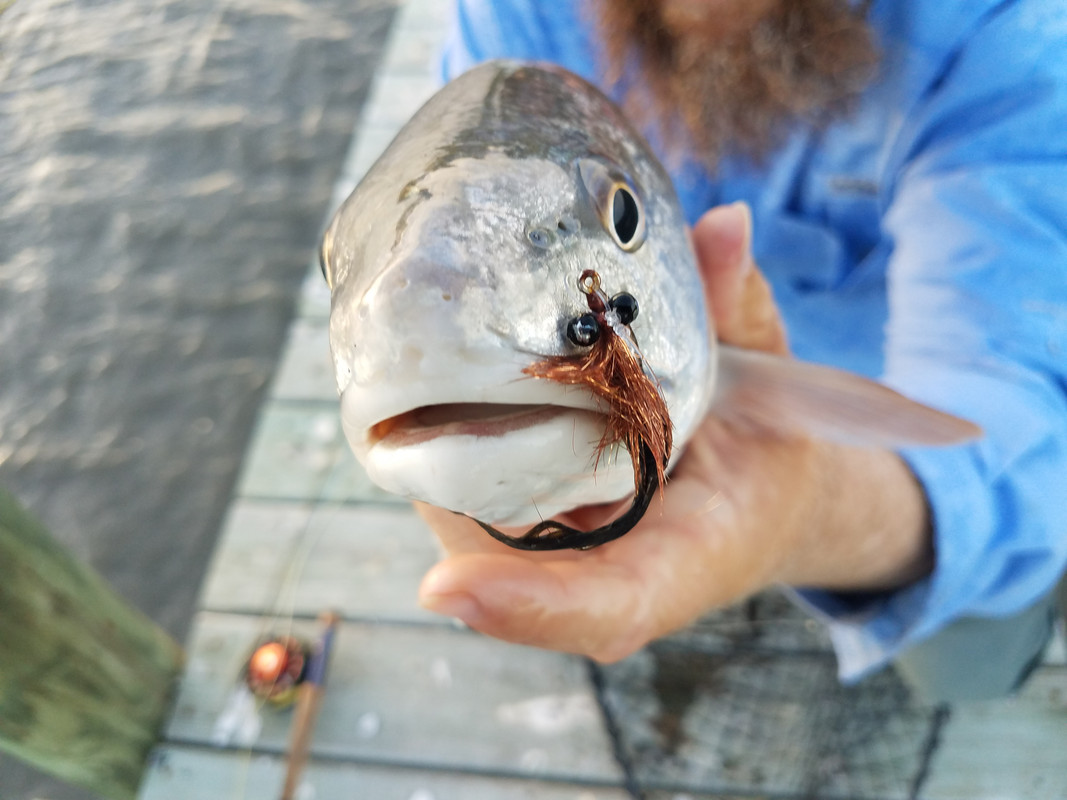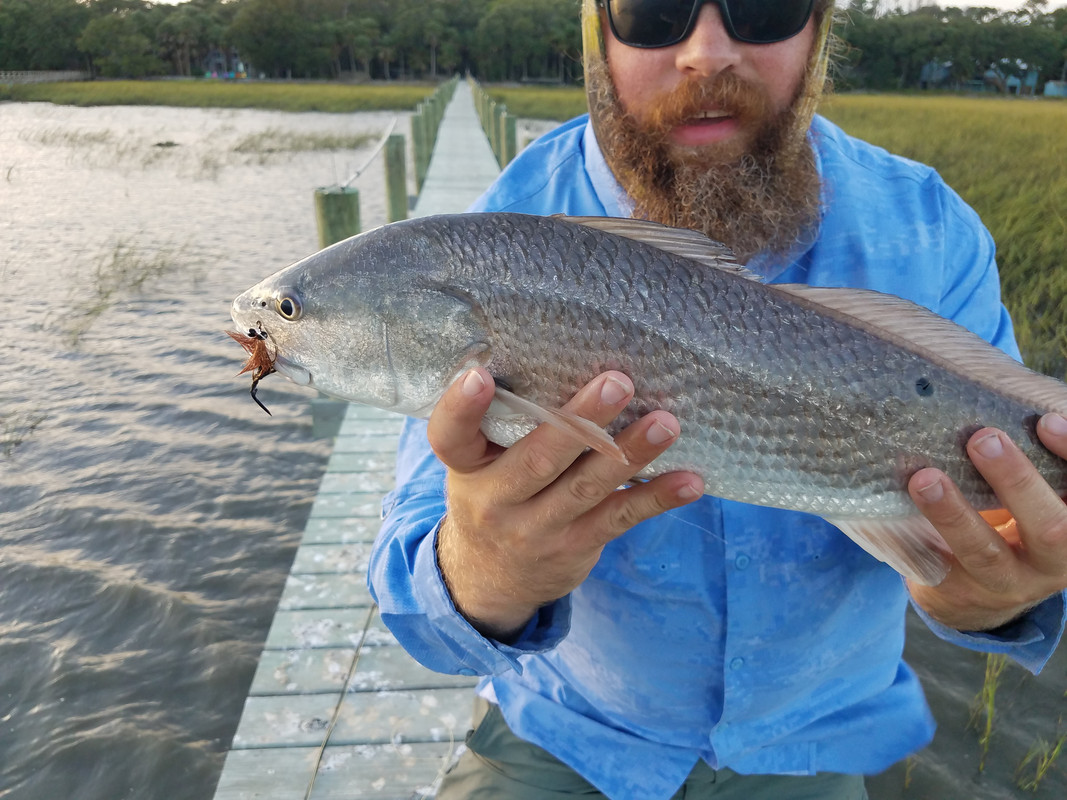 The tide was all the way in, the water no longer pushing onto the flat, but not yet perceptibly falling out. My senses were on high alert; I knew from experience that this was when the largest fish were likely to make their appearance. Sure enough, I spotted a big tail waving insouciantly ahead, hard against the overhanging bushes that line the inside edge of the flat. The fish cruised unhurriedly down the bank, pausing at intermittent intervals to stick its head down and root in the slop. Because the fish held hard to the bank, I had no opportunity to make the traditional crossing shot. So, I instead dropped the fly about five feet ahead of the fish and directly in its path, then simply deadsticked it. The big spottail slid right over and tipped down. I began my strip set just as the fish began to bolt. The line came right then immediately went slack as the tippet failed. It was over.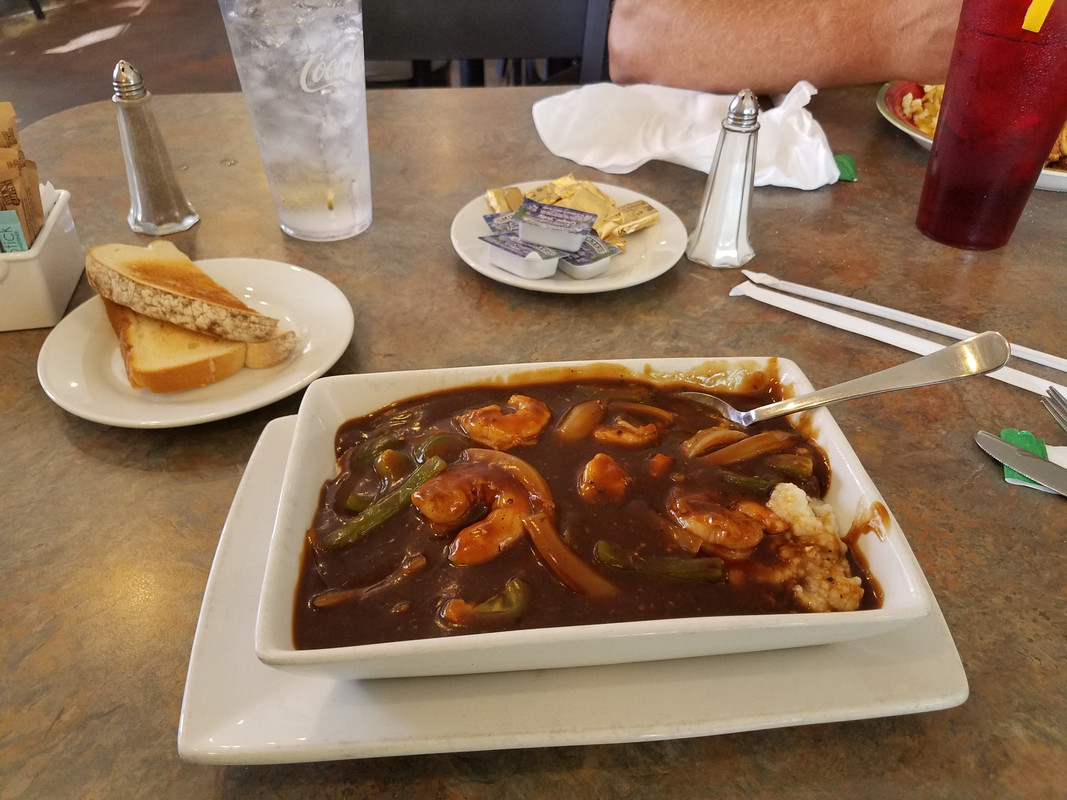 The curse of sight fishing is that when you screw the pooch, you've usually got a pretty good idea of just what a pooch you've screwed. There may be plenty of fish in the sea, but you can be pretty sure that most of them ain't
that
fish. It's easy to set to brooding about it. When you doink a couple of shots in a row and then nothing pops up for 15 minutes, you start to wonder if you'll even get another shot. When you see nothing but slot fish for three days, then get b*tched by the first big one you encounter, the tendency is to work it over and over in your mind, which is self-defeating. You need a cornerback mentality for this game, erase the game tape when you get beat and move on. Have a good meal and let it go. There really are other fish in the sea.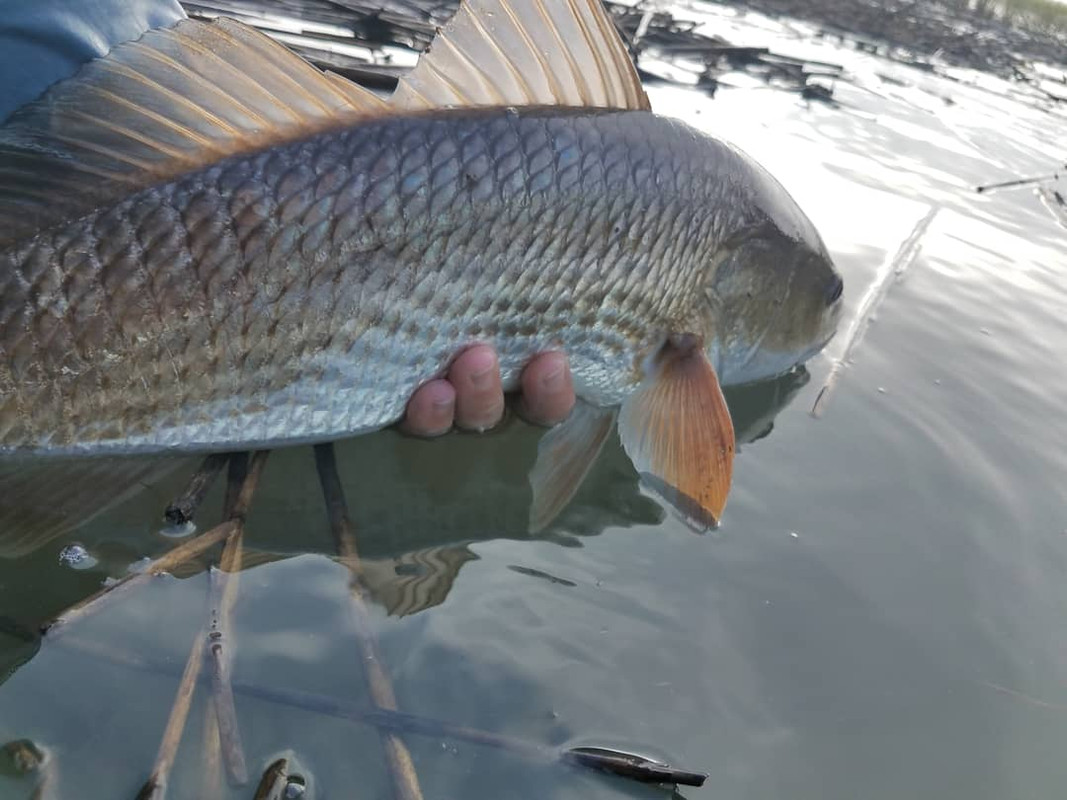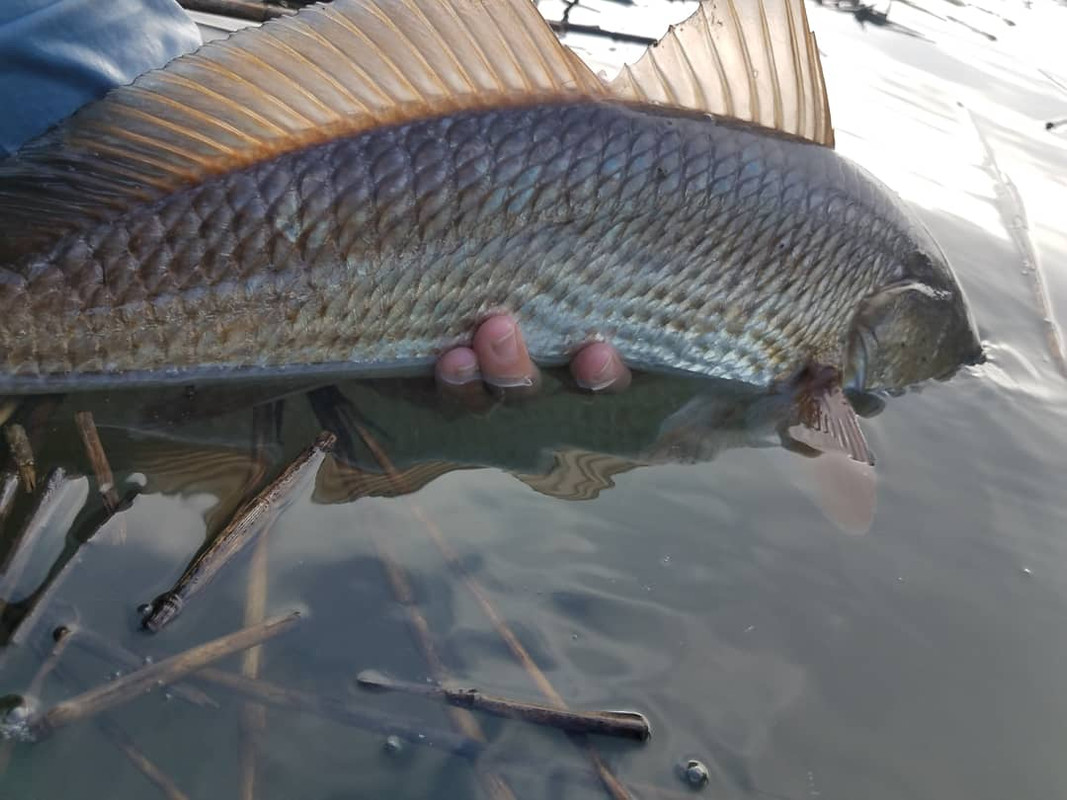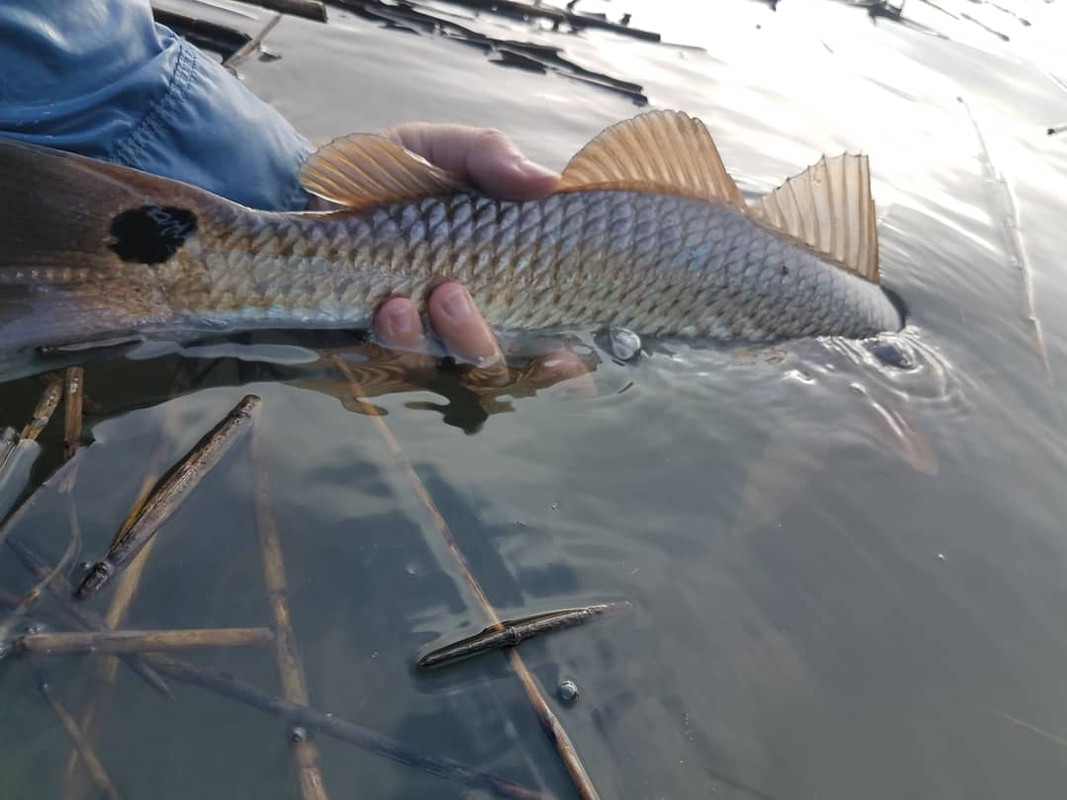 That big fish was still in my head. Over the past couple of years I've had less than a handful of shots at fish in that class, and one way or another, I've flubbed them all. Worse, the fish had turned cunning on the flats, slinking in low and on the bottom, showing themselves only as they spooked off. We needed to blow off steam and have a little more success before I headed home, or it would have been a bit of a sour ending.

So, I stood in thigh deep water on an outer inlet beach, waiting for the trout to swarm in. I finally had an opportunity to put a new shrimp fly pattern I'd had my eye on out. It looks and presents a lot like the DOA shrimp the gear guys wreck pretty much everything that swims with, and I'd been itching to get it some game action. The tide wasn't really right but I started prospecting. On the third or fourth cast, I felt the tell-tale tap of a seatrout and set.

My first impression was was of weight, too much weight to be a trout. Then the line began to peel off and just kept peeling right into my backing. Definitely not a trout. I entertained the possibility it might be a fair sized jack - I'd seen jacks busting bait along this beach before - but the strong headshakes suggested otherwise. After several more lunges, I was able to bring it to hand. It definitely wasn't a jack, but it was, at 36", the biggest shallow water red I've taken in over two years.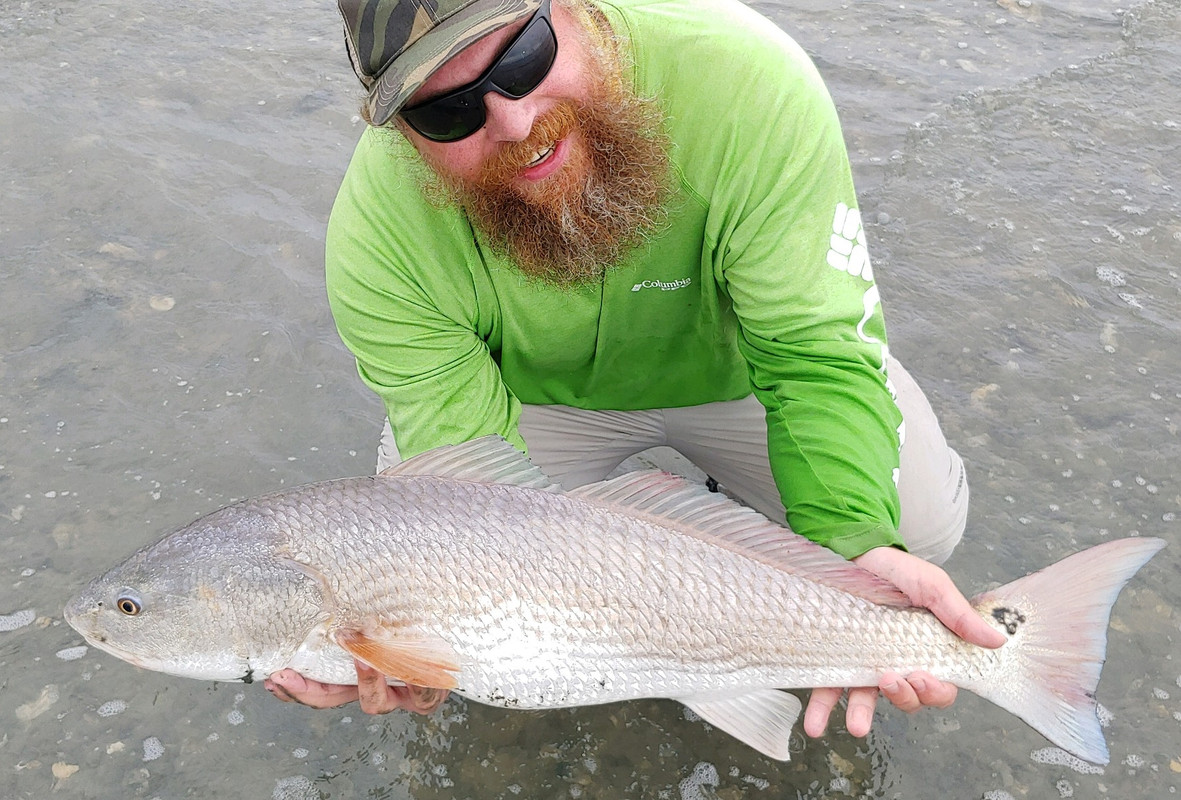 Cheers y'all!
Dylar