It's been raining for two years in the mountains. It's a dreary fact of life, and one that I'd sort of accommodated myself to, or so I thought. Somehow, since late last fall, the rain has gotten worse. 2018 was the wettest year on record in SWNC, and so far, we're foot or more above average throughout the French Broad watershed in 2019. My beloved river smallies have been
inaccessible
, as the scale and frequency of rain events has kept even smaller main river tributaries perpetually blown out for most of the last six months. There are compensating factors at work. The
trout fishing
has been
outstanding
, maybe the best in years. But I got to tell you; sometimes I get bored of trout.
I needed to get my bass fix somehow. Conditions ruled out smallies and the local water just ain't where it's at for largemouth. A friend from Raleigh called me up and asked if I wanted to get out and do a little fishing late last week, and I hopped to it and made the run down to see him. We made the connection in Raleigh around lunchtime, got his gear stowed in my Subaru, and set out to the east hoping to put ourselves on an evening bite.
When we arrived, we found a pair of anglers gearing up in the parking lot and another truck sitting silent and empty to boot. Were we going to be stuck fishing behind someone? As it turned out, no. When we walked down to the lake, we found the folks from the empty truck, a naturalist and his videographer. They were filming one of the most beautiful snakes I've ever seen This was apparently a side quest of sorts; they were actually there to try and get shots of male bowfin guarding fry. Cool stuff. They told us which way the other fellows went and we went the opposite way. All's well that ends well.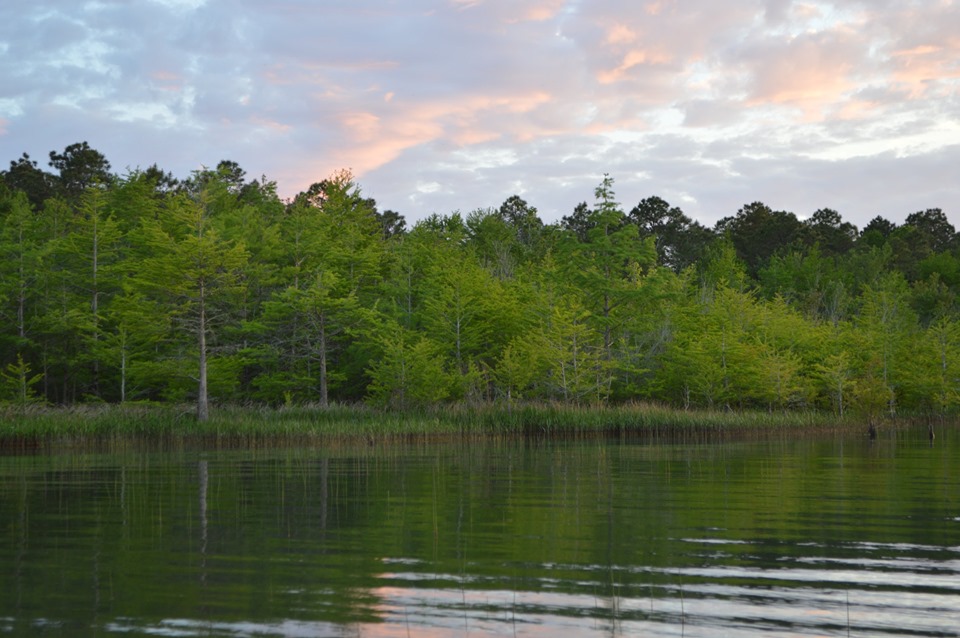 I've fished this lake in the past with my friend, and while I've caught fish, I have not thrived. Fishing the deer hair frogs that have consistently been the ticket at the required distances (often considerable) with the required accuracy (usually pinpoint) stretched my skills as a caster to the breaking point. I had to grind to scrounge out a fish or two while the buddy cleaned house. Once we hit the water, I found to my profound satisfaction that my skills had improved to the point that I was able to consistently make the casts required, and was rewarded commensurately over the course of the evening. It didn't take long to be rewarded, either. I'd barely begun to fish my first weed edge when a solid bass garbaged the fly.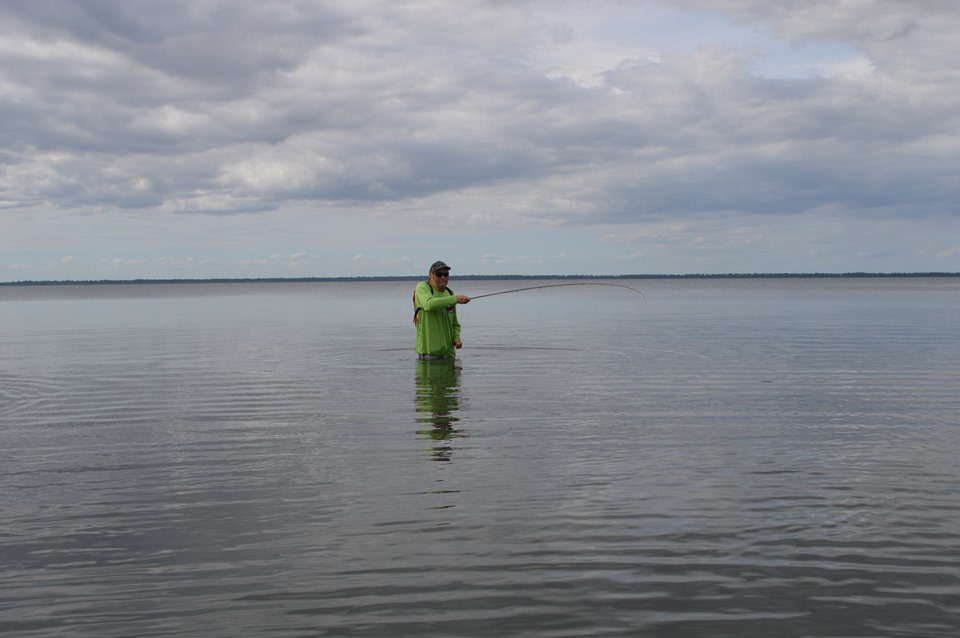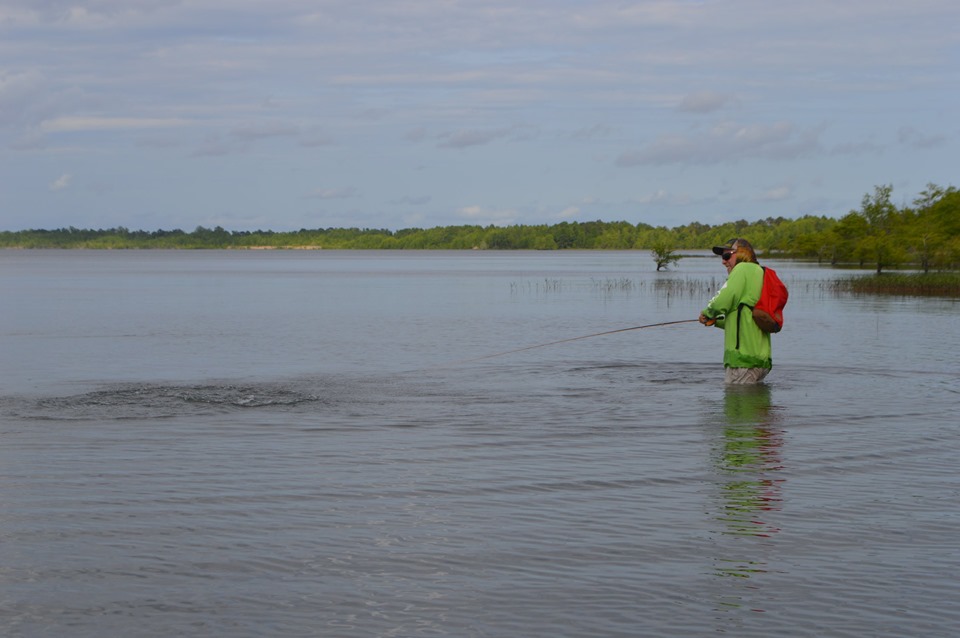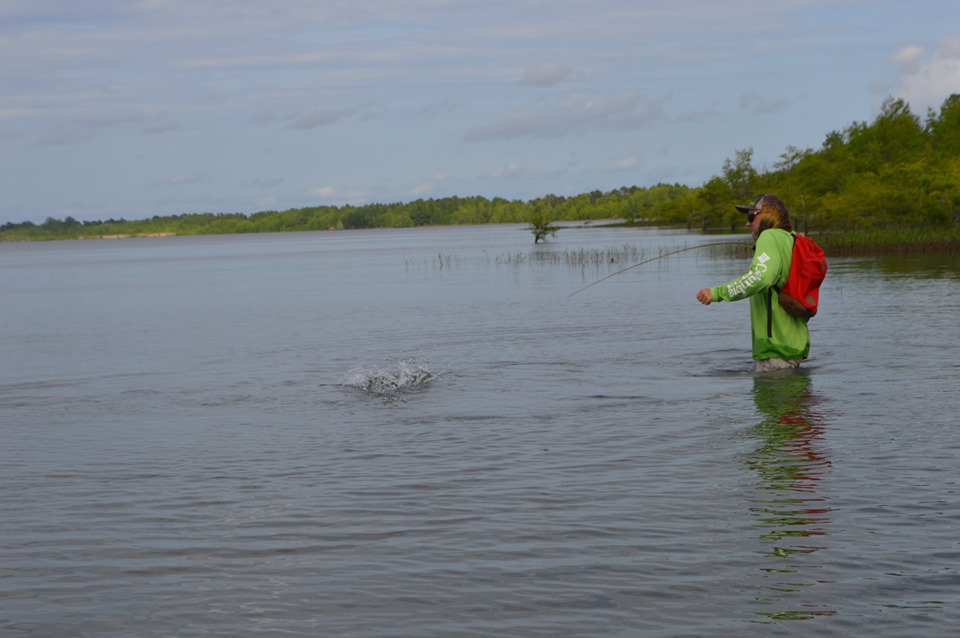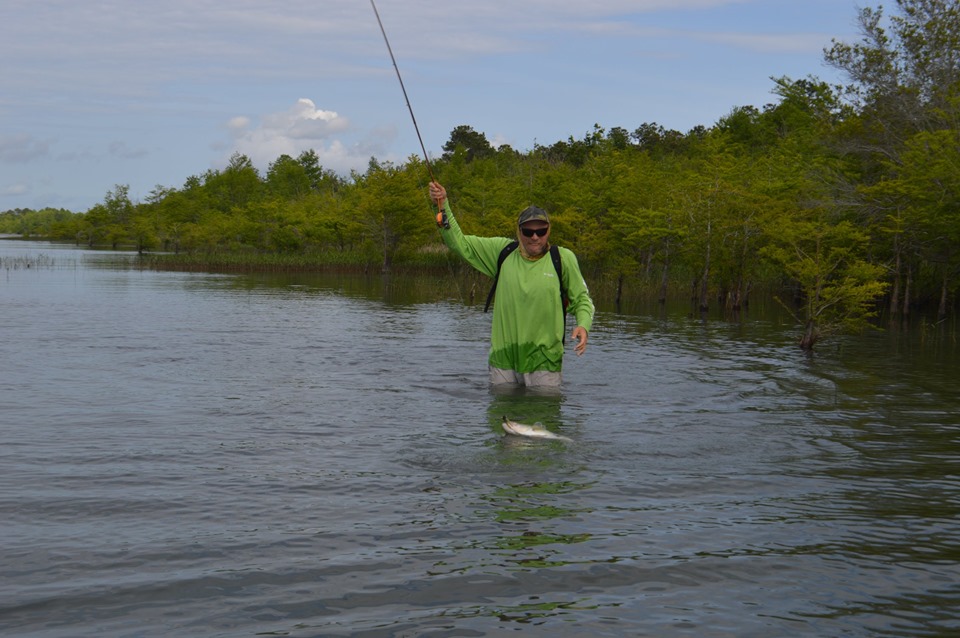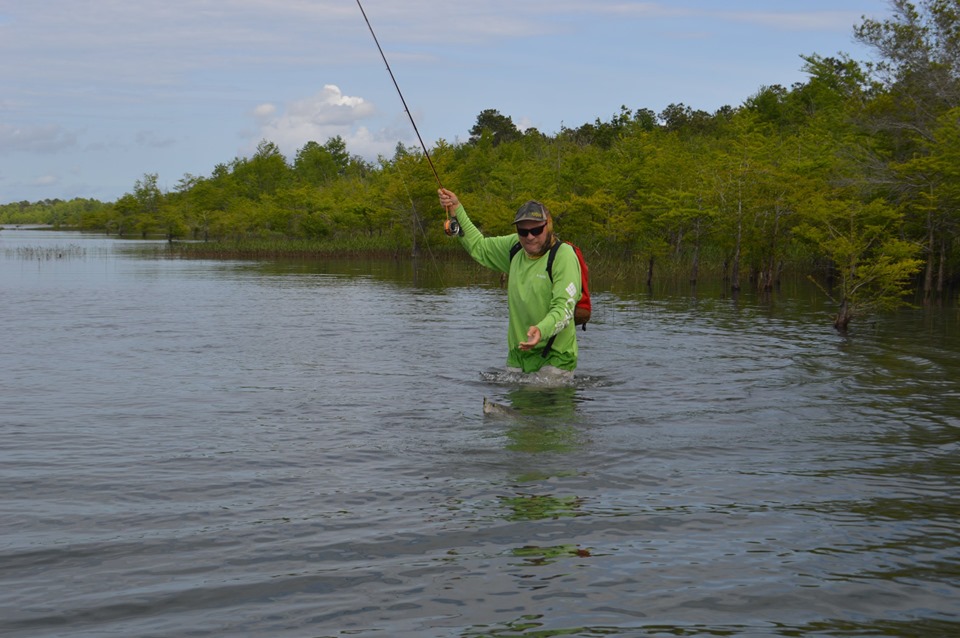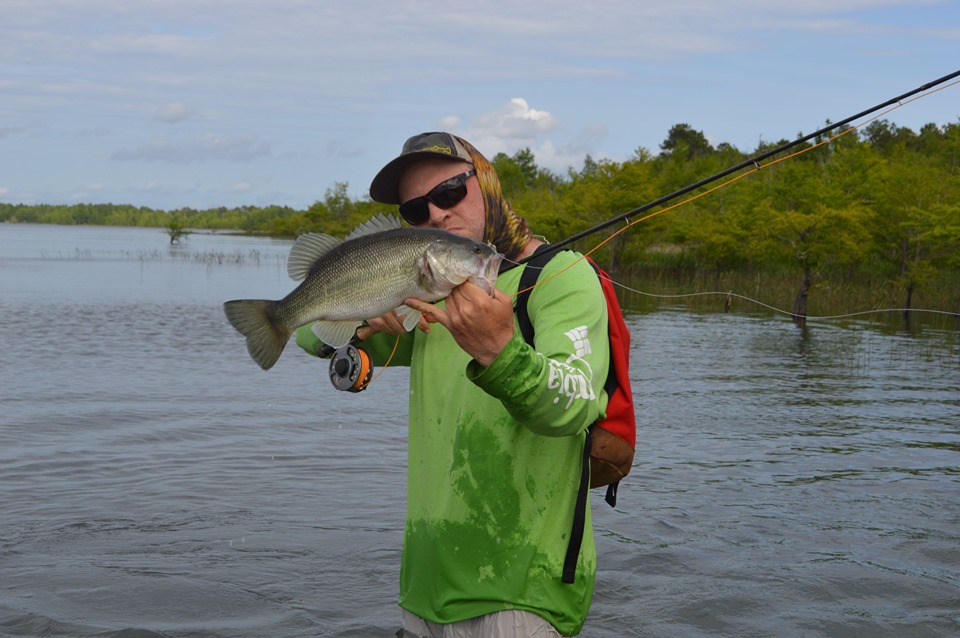 I must confess that I love fishing deer hair patterns. There's a little romance in a classic lineage of flies, and they just look cool. What I really like though, is the aesthetics of actually fishing one. The tactile feedback, the
feel
of a good, low riding deer hair frog when you pop it right—it's magic stuff. So is the sound it makes, a liquid "plop" with a subtle richness of tone that cork and foam poppers will never match. And they
work
, whispering sweet nothings straight into the psyche of a bass.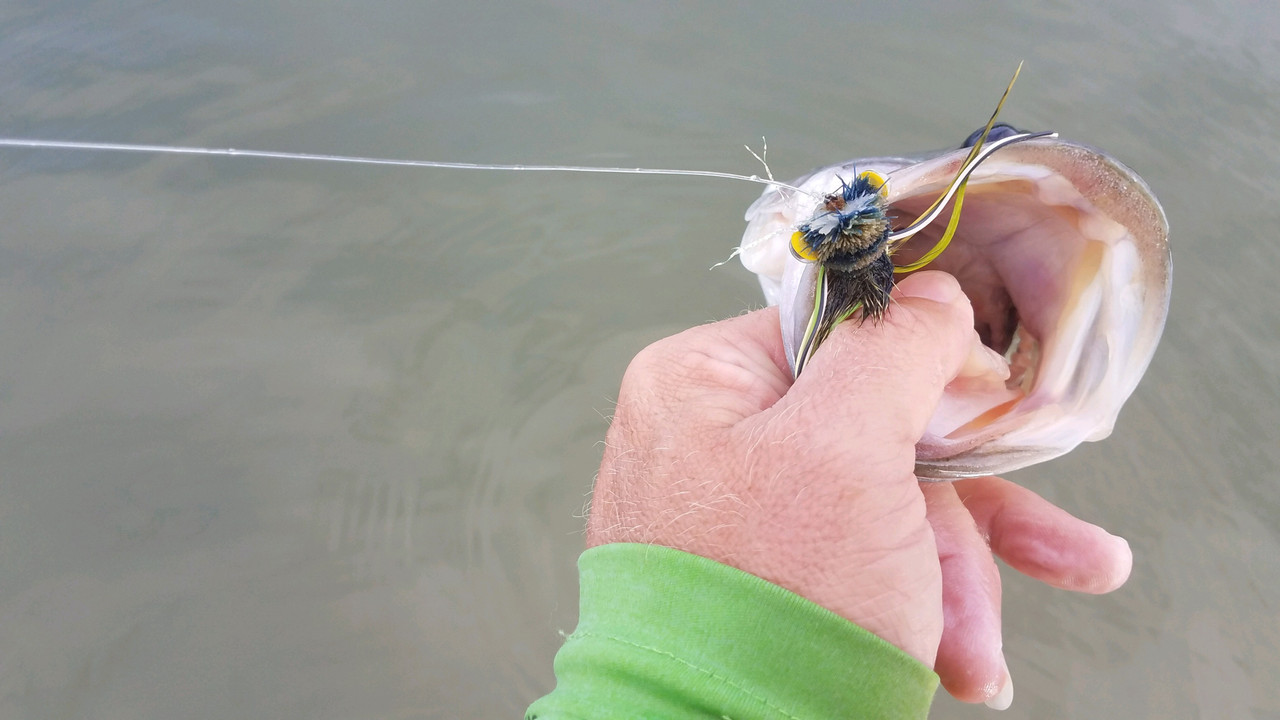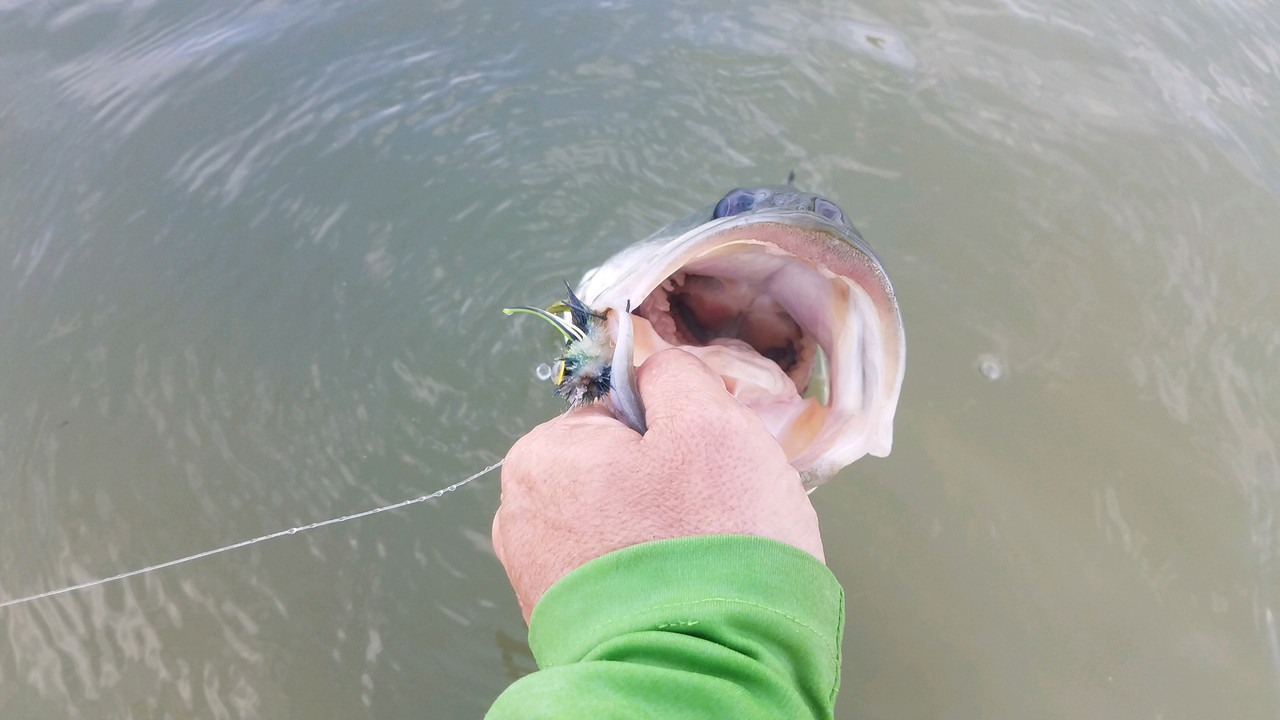 Conditions were about the best we could possibly have hoped for. Just enough off shore wind to push the forage and bass out of the depths of cypress caves, put some ripple on the water and keep the horseflies away, not enough to impact casting. My friend and I separated and spread out down the bank. Soon, he was out of sight behind a screen of cypress trees. The sounds of humanity were, for a time, silent. No boats. No planes. No humming highway. Just the buzzing of the dragonflies and the whisper of the wind through the tree tops. At times, a chorus of frogs would sing out, building in a dramatic crescendo to a nearly deafening climax, only to fall silent. In those moments, it was possible to feel truly alone in the world.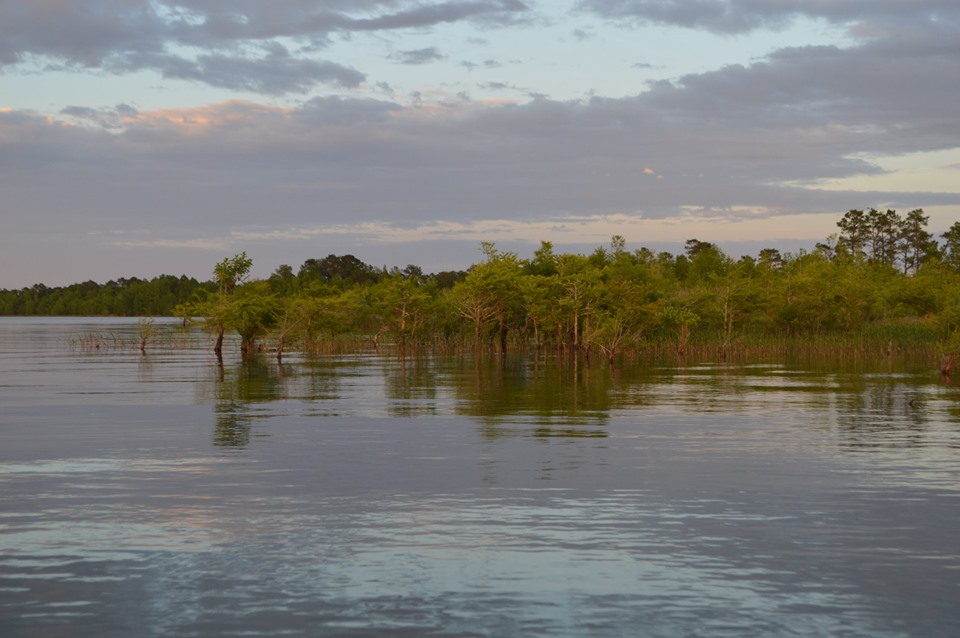 All along the way, the bass kept biting. The rush of a bass taking on top will never get old for me. The boil of water, the vanishing fly, that perfect moment when the line comes tight; this is the stuff we live for. The eat is so good it almost eclipses everything else, but they give an excellent account of themselves, too. Years of impoundment fishing as a child and young man left me with a low opinion of the fighting qualities of largemouth bass, but these fish give the lie to that belief. I can't say why, but I'd like to think it is because in the oxbows, backwaters and natural lakes of the coastal plain largemouth bass are truly in their element, in the ecosystems in which they actually evolved. Whatever the reason, they put on a show more akin to a river smallie than the usual shake and wallow of a reservoir largie.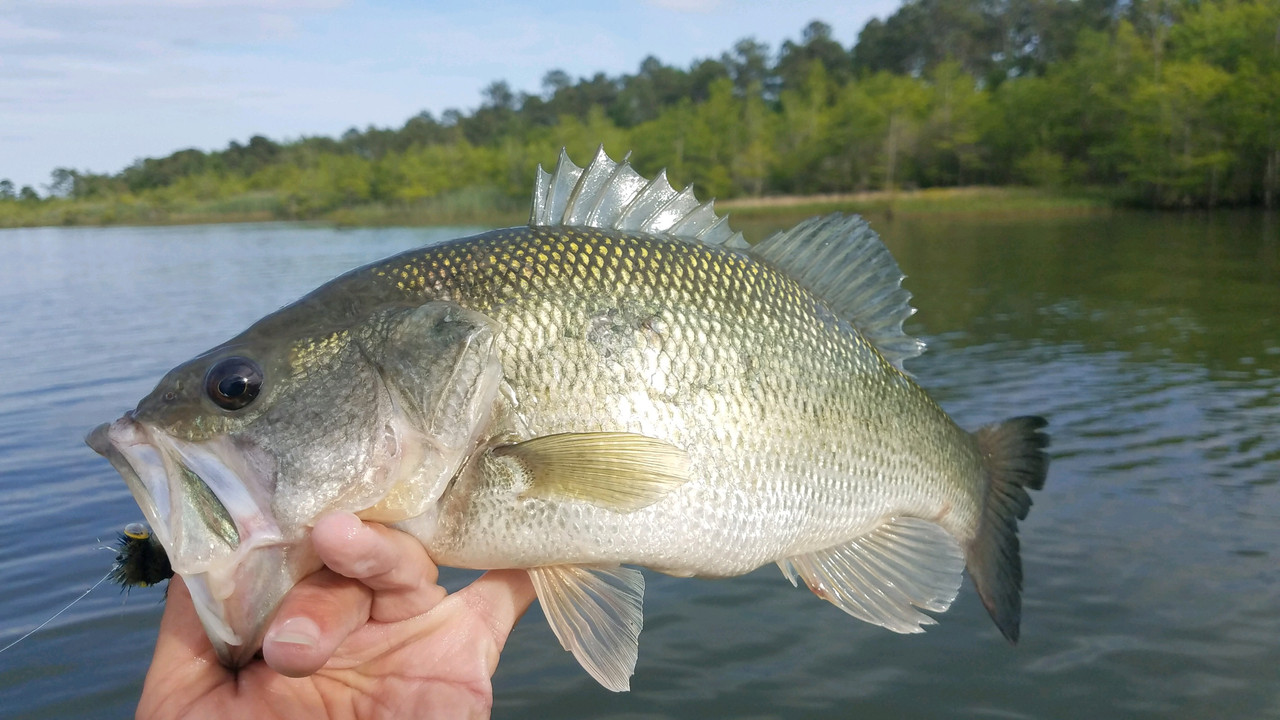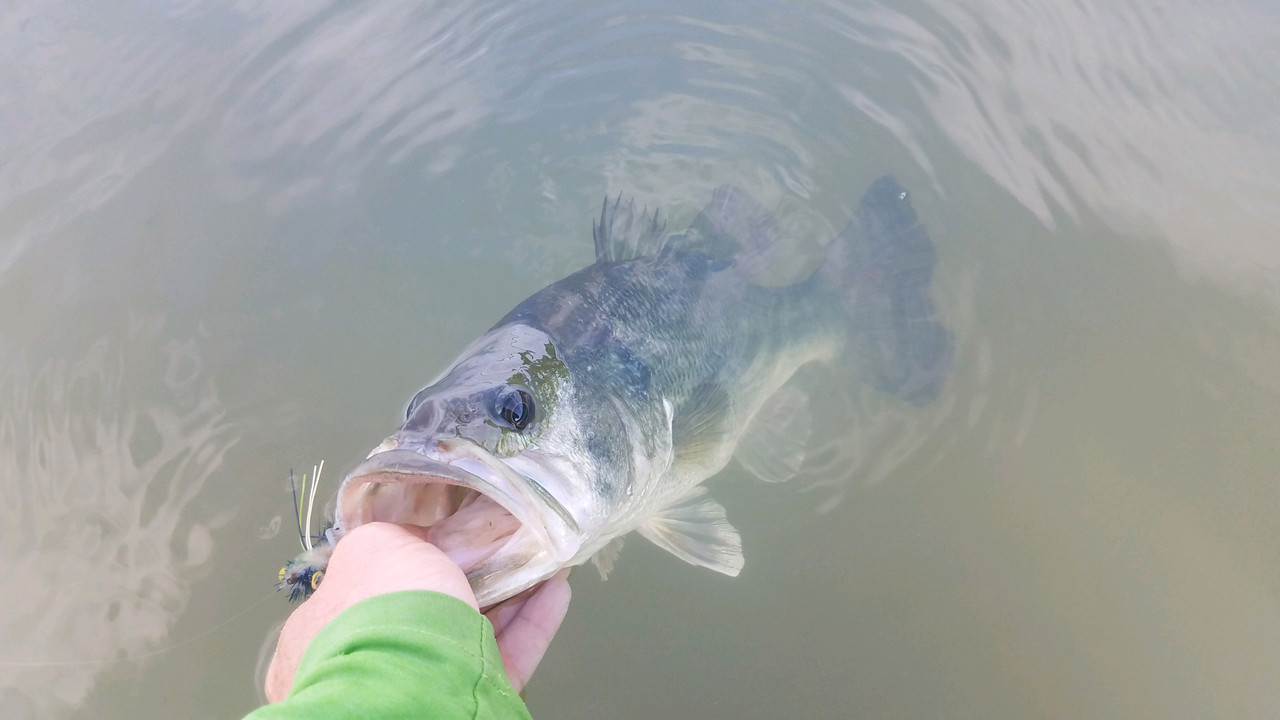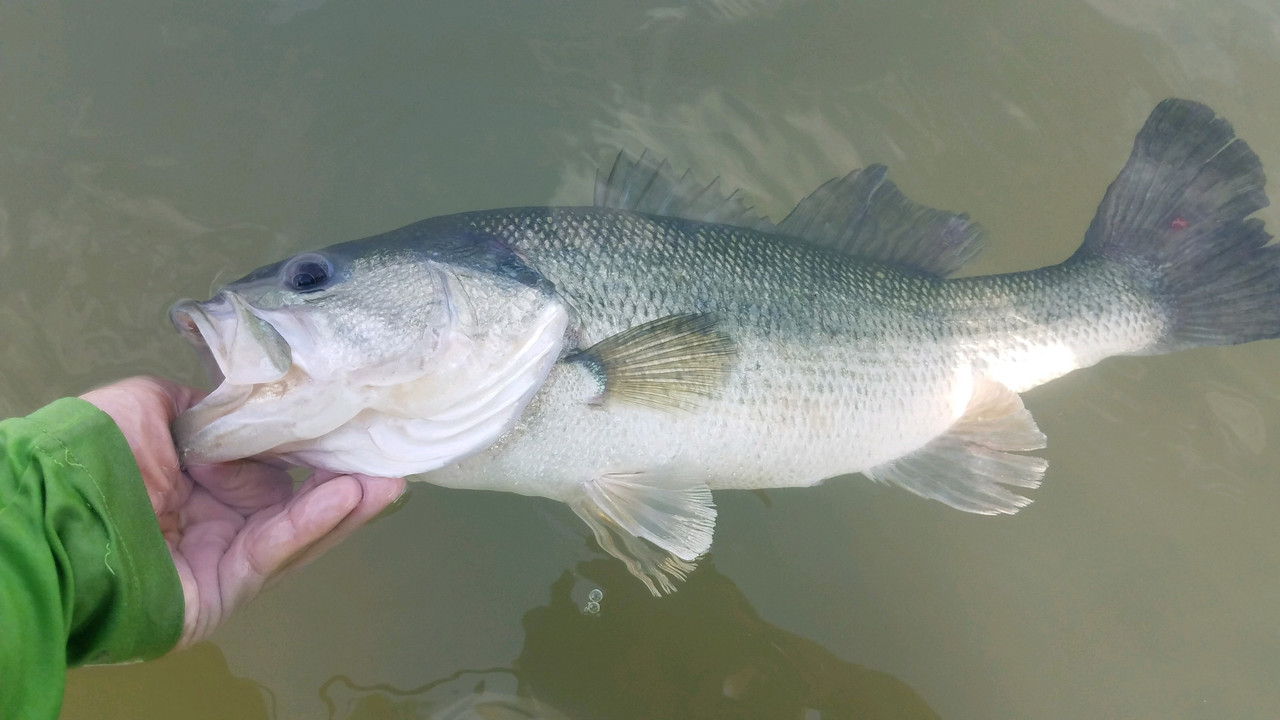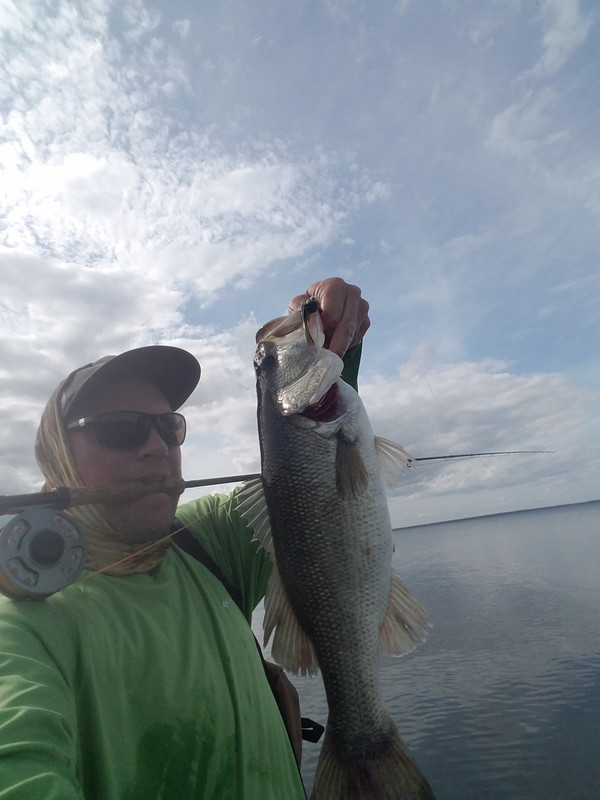 The frog also drew a lot of attention from longnose gar, which were stacked like cordwood on some of the shallow flats between the grassbeds. Many followed along behind it, and others ate it, but I couldn't figure out how long to feed them before setting the hook. I got lost in a mini-quest to pop one of them on a topwater fly, and spent my last two hours fishing sight casting to individual gar. I got dozens of follows, and several explosive eats, but still couldn't actually put a hook in one. Finally, I spotted a couple of fish laid up in ambush behind a small grass point. I began to work the frog past the point when a
much
larger gar I had not seen slashed in and smashed it. This time, through whatever quirk of fate/hand of god that was at work, the hook found purchase. The gar lunged toward open water, dumping line off the reel. It took a couple of spectacular, tumbling leaps, and after the second, wrapped in the leader and broke it off at the leader/line connection. By then, the sun was definitely dipping low and it was time to go.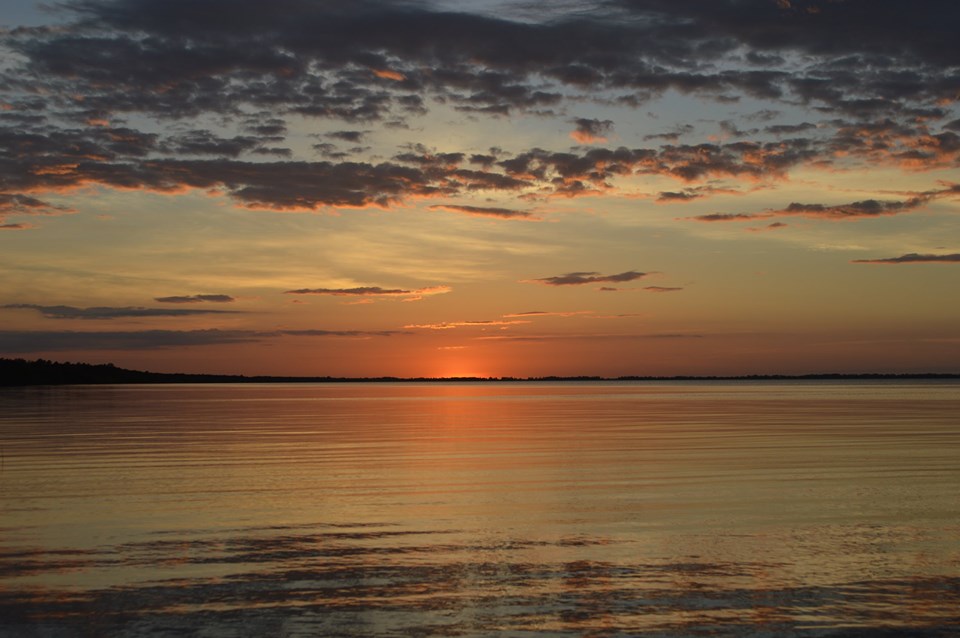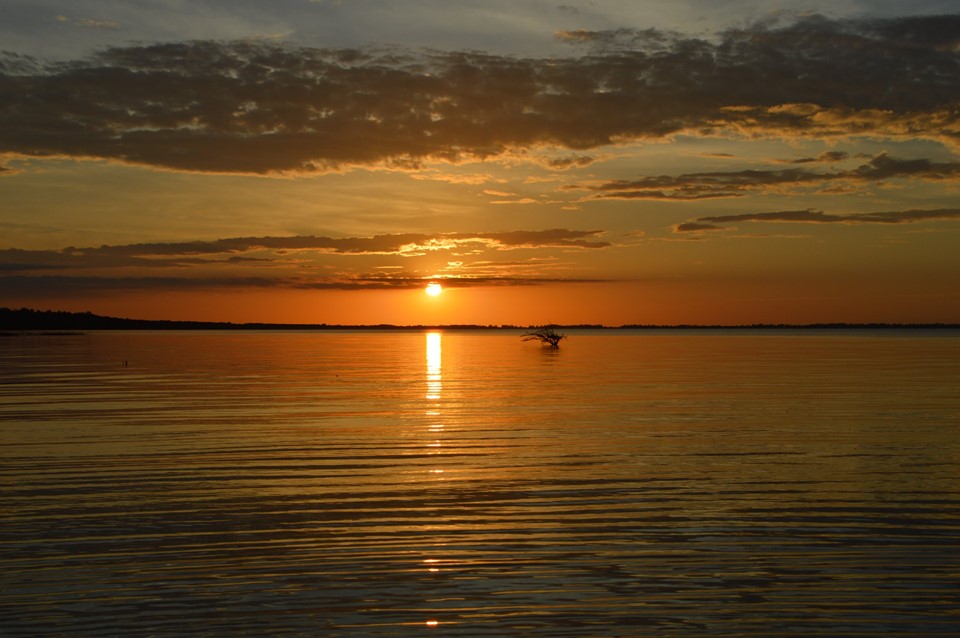 Cheers y'all!
Dylar