These are Don's words regarding this fly.
"It is a cross between the Gold-Ribbed Hare's Ear and Pheasant Tail Nymphs. Both these nymphs are deadly underwater patterns....the best attributes of both have been combined into one all-purpose nymph that is easy to tie, which makes it appeal to beginning tyers and also to those of us who like to fish but don't have enough time to tie flies. A dozen or more of these can be cranked out in no time at all, compared to the time it takes to tie either of its parent patterns. There is no wingcase, there are no legs, simply a tail, abdomen with gold wire rib, and a thorax. That's it, except unless you wish to make a Bead-Head Hare E. Rooster."
Hook: Standard 2xl Nymph-Dai-Riki 730,Tiemco 5262, Daiichi 1710. Tie in sizes 10-20.
Bead Head: Optional
Thread: Size to match hook size and color to match dubbing
Tail: Natural or dyed Pheasant tail fibers, approx. equal to body length.
Rib: Fine gold wire
Abdomen: Pheasant tail fibers, created from the same fibers as the tail.
Thorax: Wapsi squirrel dubbing or natural rabbit fur in black, dark olive, rust or natural. Pick out carefully on all sides to create a "fur soft hackle"
Head: Thread or bead.
Shown--Natural/top Black/bottom size 18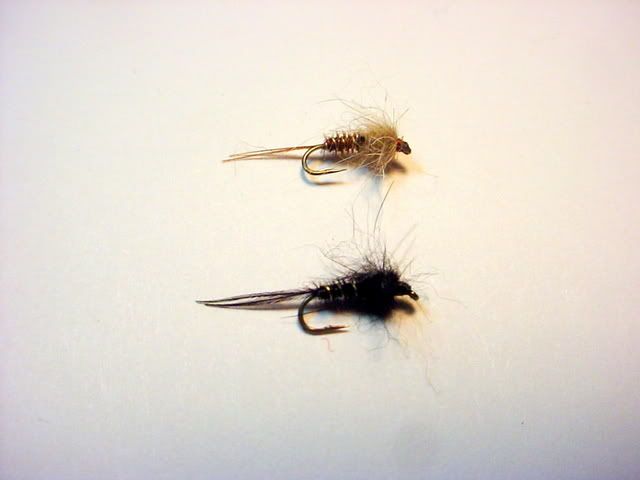 "There is no trick to tying this fly. The only difficulty some may have is with the pheasant tail fibers. Keep the tips even and tie them in place, halfway between point and barb with one turn of thread. Lay wire in the wire so the butt end reaches well into the thorax, and tie in with one turn. Then, maintaining tight thread tension, pull the pheasant fibers rearward, and wind the tying thread rearward, catching the pheasant fibers and forcing the butt ends to lay down, pointing away from the hook eye withthread turns. Take only 3 or 4 additional turns to the rear until the thread is over the bend. Properly done, this should gather the tail together without splaying it. Wind tying thread forward halfway between point and eye. Wind pheasant tail fibers forward and tie in place. Wind wire rib in opposite direction of pheasant fibers and tie off. Create a dubbed thorax with tight thread tension, forming a ball about 3 times the diameter of the abdomen. (Make head and whip finish) Then pick out guard hairs all around."