Transluscent Green Nymph
Hook: Scud type #10-14 This is #10
Bead: Fluted silver metal craft bead
Thread: UTC 70 Der White
Overbody: Green Crystal String (a stetchy string used in making jewelry)
Underbody (Optional): Orvis Chartruese Holographic tinsel
Rib: Small silver wire
Thorax: Spirit River mottled nymph blend Peacock dubbing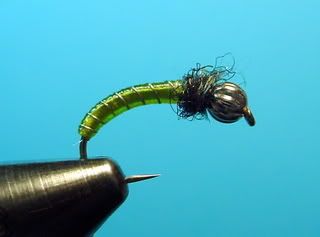 1. Debarb hook, place bead on hook, mount hook in vice and start thread
2. Tie in a piece of Crystal String and a piece of holo tinsel with long ends extending over the eye.
3. Tie in rib and run thread over the rib back to rear of body
4. Run thread back to behind bead, keeping thread wraps tight against one another to form a solid under body.
5.(optional) Wrap layer of holo tinsel to rear of body and then forward to behind bead, leaving no gaps. Tie off and trim excess.
6. Repeat #5 with Crystal string.
7. Counterwrap rib. Tie off and trim excess.
8.(optional) Coat body with SHAN (Sally Hansen Hard as Nails). Let dry.
9. Apply thorax with the dubbing and whip finish.