Kootenay Caddis Emerger
Thanks to Wefur for turning me on to this pattern several years ago.
Hook: Curved scud (Shown #16)
Body: several glass beads (original - green)
Thread: color to match dubbing or beads (original - tan)
Tag: Tying thread and/or small ball of dubbing (original - light hare's ear)
Wing: Ultra chenille with the end slightly melted for profile. (original - light brown or tan)
Head: Spikey dubbing (original - dark hare's ear with guard hair)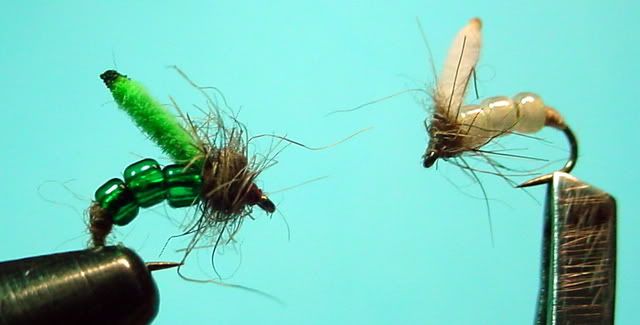 Tying Instructions:
Slide the glass beads onto the hook (works best if de-barbed)
Tie on thread at hook bend and build up or dub a small tag to prevent beads from sliding off. Whip finish. *I usually put a drop of head cement on the thread ball.
Push beads to the rear and restart tying thread in front of beads.
Tie in small piece of chenille and trim.
Dub a bushy head (bushier the better)
Whip finish, cut thread and add head cement